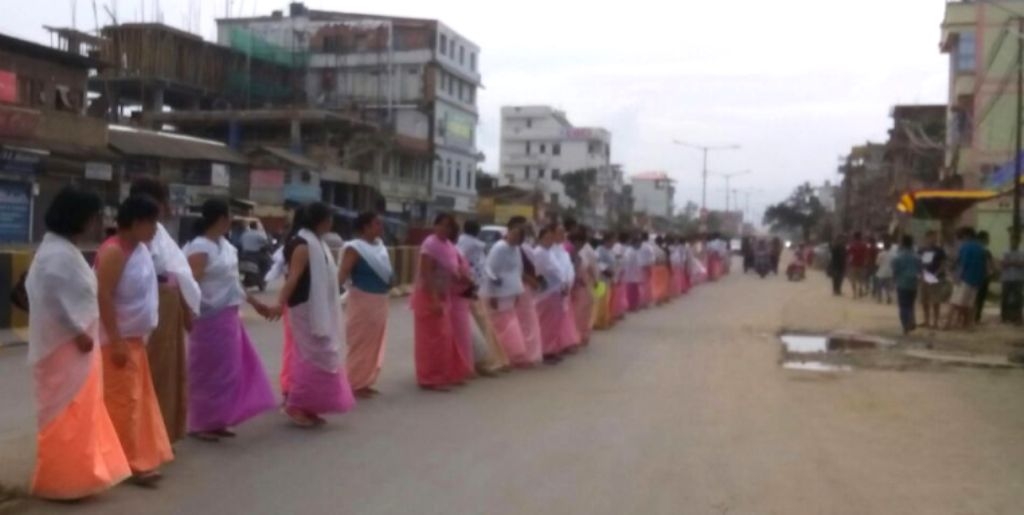 Traffic along Uripok Kangchup road was disrupted today after women folk who were staging sit-in-protest at various places in Uripok Kangchup road from Khwairamband Samu Makhong to Noaremthong area demanding immediate implementation of ILPS in the state.
Report said that Meira Paibi group of Uripok Achom Leikai, Uripok Polem Leikai, Uripok Khumanthem Leikai, Takhellambam Leikai, Naoremthong Laishram Leikai, Khulem Leikai, Uripok  Kamdebo Leirak, Uripok Bachaspati Leikai, Ningthoukhongjam Leikai, Uripok Khoisnam leikai, Tourangbam Leikai, Singjubung Leirak and Uripok Laikhullembi today staged sit-in-protest at their respective localities since early morning today in support to the demand of the JCILPS agitation.
At around noon the women folk form human chain from Khwairamband Samu Makhong to Noaremthong area. As the Women folk were standing at the roadside forming human chain, traffic along the route has been greatly affected.
After news about police assaulting students at New Secretariat office reach them. Slogans denouncing the police act were shouted during protest.
The women folk also shouted slogans demanding punishment of the police personnel involved in the killing of Sapam Robinhood on July 8.
Police faced hard time in controlling the situation.