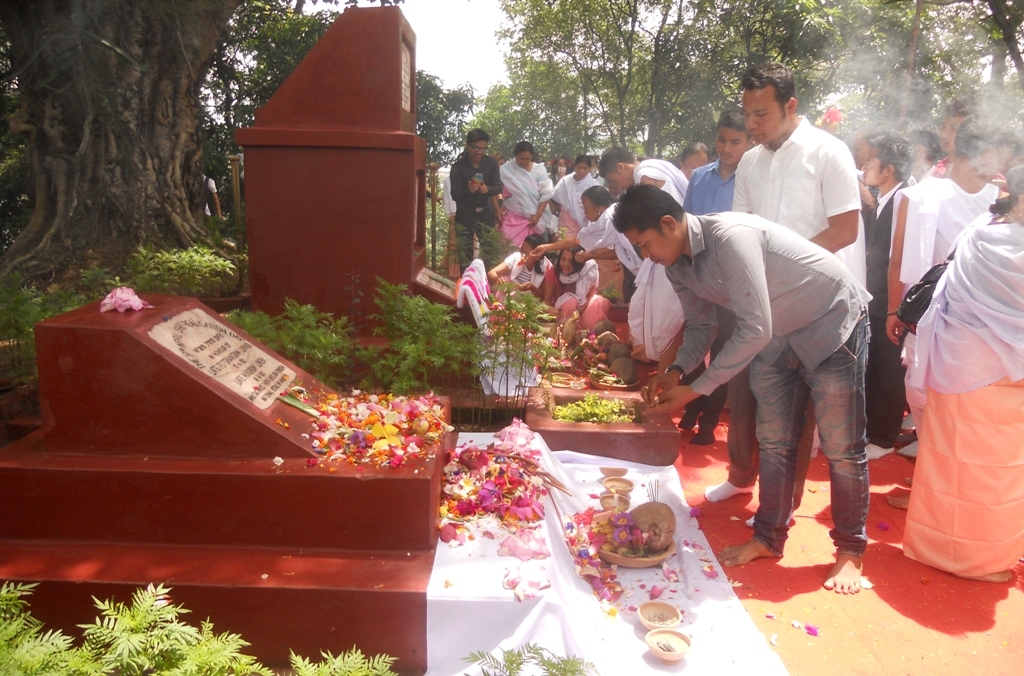 The All Manipur Students' Union (AMSU) today reiterated the demand for introduction of the Inner Line Permit System in the state on the 50th Hunger Marchers' Day observance held at Pishum Ching in Imphal. On the occasion fitting tribute were paid to the portrait of Oinam Nabakumar, Pramodini Devi , Laishram Chaobhan Singh ,and Waikhom Nillamani Singh who had given their life during the mass uprising of 1965 on this day. A rally that took out as a part of the observance called on for introduction of Inner Line Permit System in the state. Banner and placards demanding immediate implementation of the Inner Line Permit System were carried during the rally. Former presidents and other office bearers of AMSU and present president of AMSU including students from different part of the state joined the rally after paying floral tribute to the martyrs at Pishum Chinga. Other slogan demanding punishment of the police personnel involved in the killing of Sapam Robinhood and assurance to keep in take the present political boundary of the state were also raised during the rally.
The day is observed to commemorate the mass uprising of 1965 on this day against the artificial scarcity of food grains in the state. During the agitation 3 students and a driver of All India Radio, Imphal were killed in police firing.
Later, after the rally, a public meeting was held at Multi-Purpose Hall of Manipur College. Former President of AMSU Leihaothabam Sharatchandra, Present President Sanasam Subhashandra, Lairenjam Gojendro, Associate Prof. Economics Deptt. Manipur College and Sinam Prakash, Secy. General NESO attended the observance function as dignitaries on the dais.