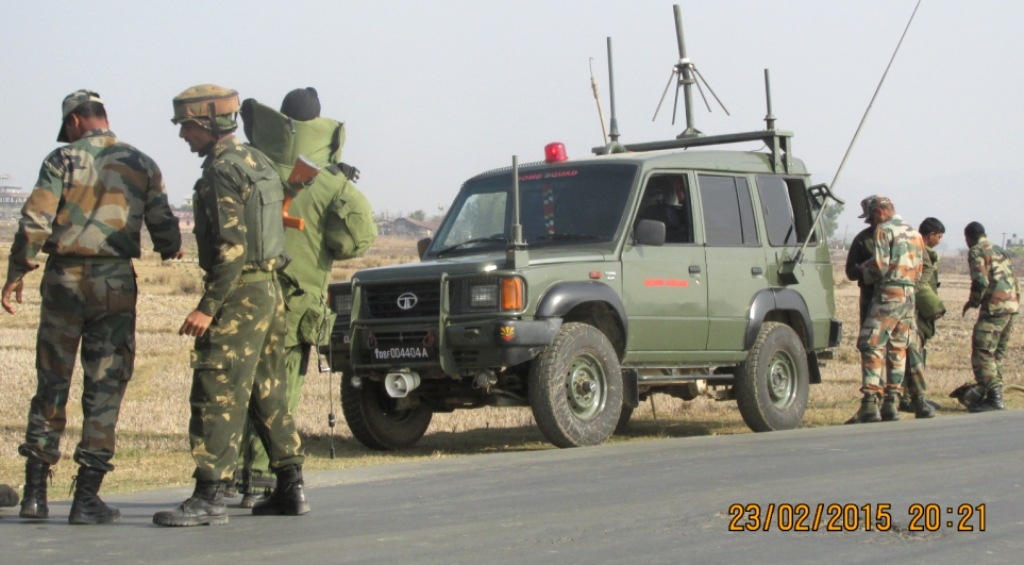 A powerful Improvised Explosive Device (IED) weighing 2 KGs was found today near Sajiwa Jail, under Heingang Police Station, at a distance of hardly a kilometer from the post of 45 Assam Rifles at Chingarel.
Sources said that the bomb was detected by the sniffer dog of 45 Assam Rifles during its regular ROP at around 6.45 am. The site where the bomb was planted is known as Ishirou. The bomb was planted near a garbage dumping area in an iron container. The bomb is suspected to be planted by PLA, the armed wing of Revolutionary People's Front in an attempt to attack to Assam Rifles personnel, as the bomb was detected ahead of Independence Demand Day of the proscribed outfit.
As soon as the bomb was detected, Assam Riffles blocked the Imphal Ukhrul road in order to prevent form any untoward incident. The bomb was safely detonated at the site by the bomb squad of 12 Bihar Regiment at around 9.10 am.   CO of 45 Assam Rifles and High Ranking Officers of Manipur Police inspected the site.
On the other hand, three motor shells were recovered at around 8.40 am this morning by workers while they are making road at Heirok near BSF Camp under Thoubal Police Station. The motor shells have been disposed by bomb disposal team of Manipur Police in the paddy field at around 12.35 this afternoon.