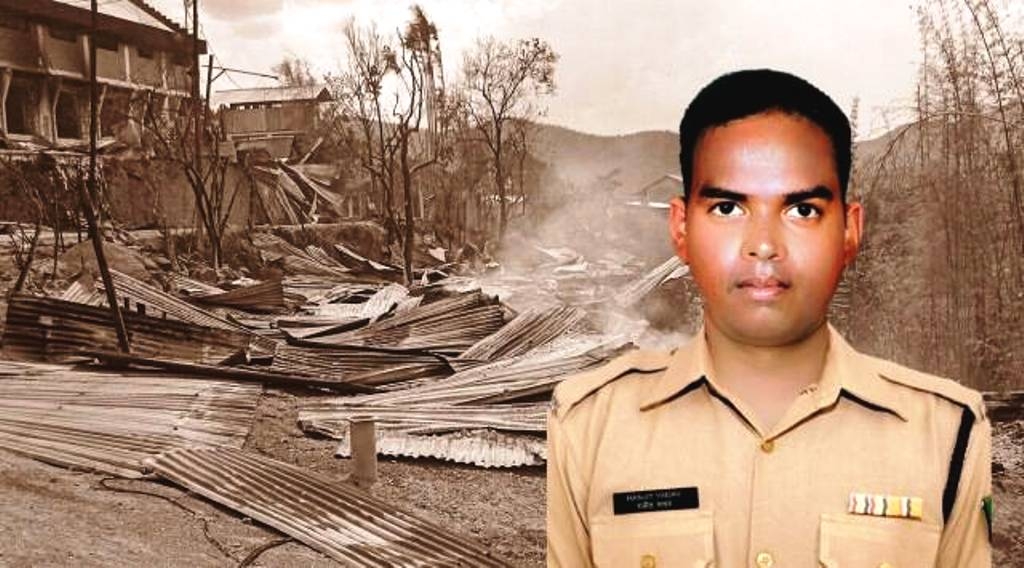 IT News
Imphal, June 6:
A heavy gun battle was reported between the combined security forces and the suspected armed Kuki militants in the early hour today in Serou area of Kakching district.
"One BSF personnel sustained fatal injuries. Two Assam Rifles personnel sustained Gun Shot Wounds and have been evacuated by Army Helicopter to Mantripukhri, Imphal", a statement by PRO Defence says.
The tragic incident took place when suspected Kuki militants shot the BSF personnel down using a Chinese sniper. The BSF personnel went out of his bunker around 4 am for a short period of time.
The deceased BSF personnel has been identified as Ranjit Yadav (36 years) son of Mahendra Yadav from West Bengal. He was a Jawan from 163 BN A-Coy, Mizoram, and was stationed at Serou Practical High School.
A bullet hit the jawan on the left back and passed through the right chest.
Report said that he was brought dead to Jeevan Hospital at around 6 am. The body has been brought to JNIMS here in Imphal for post-mortem.
Expressing their condolences, the BSF took to Twitter to mourn the loss of their jawan. They honoured the sacrifice of Ct/GD Ranjit Yadav, 163 Bn BSF, who displayed conspicuous bravery, dedication, and devotion to duty during the exchange of fire. The incident occurred when suspected Kuki miscreants resorted to an indiscriminate and heavy volume of firing towards BSF troops deployed at Serou Practical High School in PS Sugnu, District Kakching, Manipur.
In response to the recent crisis in Manipur, the Indian Army, along with Assam Rifles, CAPF (Central Armed Police Forces), and the police, launched extensive area domination operations. These operations commenced with the aim of restoring peace and stability in the region.
The security forces while conducting search operation recovered two AK series rifles, one 51mm mortar, two carbines, ammunition & warlike stores from the general area, an army statement said.
The Spear Corps of the Indian Army also released a statement confirming the incident, stating, "One BSF jawan succumbed to fatal injuries, while two Assam Rifles personnel sustained gunshot wounds (GSW) in the general area of Serou."
Extensive area domination operations were swiftly initiated by the Assam Rifles, BSF, and local police in the Sugnu/Serou areas of Manipur.
Throughout the night of June 5-6, intermittent firing between security forces and the group of insurgents took place.
However, the security forces effectively retaliated to the gunfire.
PRO Defence statement said that Multiple incidents of violence, arson & firing in Sugnu & Serou areas of Manipur, necessitated redeployment of additional troops over the past 48 hours to beef up ongoing extensive area domination operations, ambushes & measures to prevent arson/ violence. As a result of extensive area domination operations by Assam Rifles, BSF & Police in areas of Sugnu/Serou, intermittent exchange of fire took place between security forces & insurgents during the night of 05/06 June 2023. Security Forces took adequate measures to prevent insurgents from 'breaking contact' & running away to nearby areas.