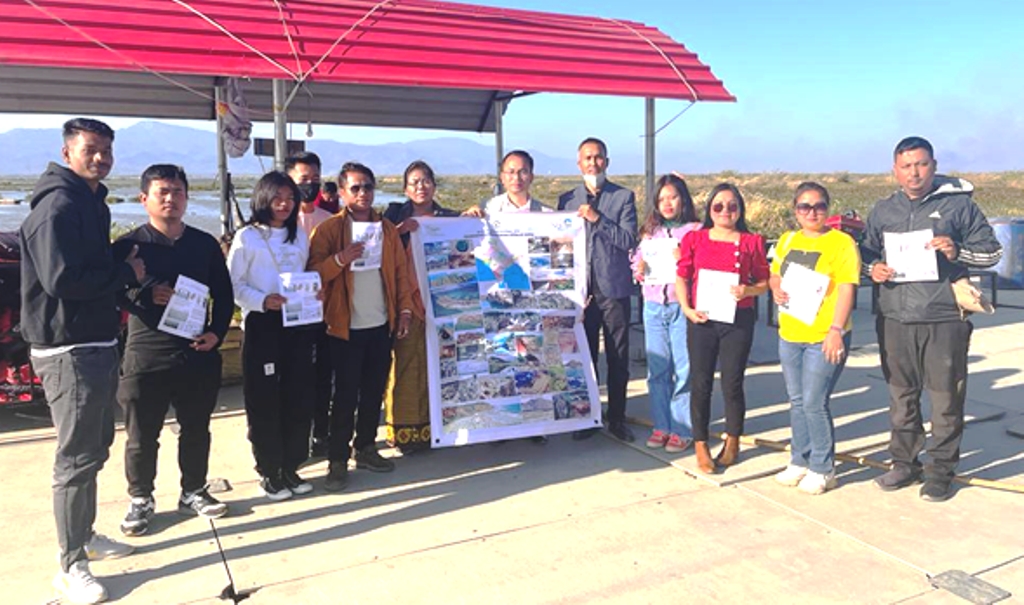 IT News
Imphal, Jan 14:
As a part of Azadi Ka Amrit Mahotsav, Geological Survey of India, State Unit: Manipur-Nagaland, Imphal Camp office and Regional Training Division, GSI, Shillong under the aegis of Addl. Director General & HoD, GSI, NER, Shillong, organised an awareness programme on "Loktak Lake: A Geo-Tourism Site of India" at Thanga Salam, Bishnupur district, Manipur.
The prime objective of the programme was to create awareness and highlight the scientific importance of this lake among visiting tourists, students and the general public. This will also help to conserve the site and aid the upcoming generations to be aware of such geological developments. Officers of GSI briefed on the geology and tectonic evolution of Manipur with special emphasis on Loktak Lake, a geotourism site and the need to conserve it. To mark the event momentos, T-Shirts, pamphlets were distributed to the participants and posters were displayed at different popular sites around the lake.
Loktak Lake, the largest natural freshwater lake of Northeastern India, characterised by floating islands, known as Phumdis and has been designated as a wetland of International Importance under the Ramsar Convention in 1990. Geologically, Loktak Lake belongs to the Quaternary deposits and occupies the youngest morphostratigraphic sequence amongst the Quaternary deposits of Manipur with its origin as a part of lacustrine Imphal valley. Its relative age is Late Holocene to Recent. The programme was attended by the Principal, teaching & non-teaching staffs and students of Thanga Hr. Secondary School, Bishnupur district, Manipur along with official/leaders of local clubs.
During the programme invitees expressed their deep concern over the extensive overgrowth of Phumdis (aquatic plants) and the deteriorating condition of the lake since the past few decades. They stressed that only through geological/scientific knowledge the lake can be preserved to its natural pristine beauty. They expressed their sincere thanks and appreciation for the step taken up by GSI in sensitizing the local populace. They wish and look forward to more of such awareness programme to be conducted in near future.
GSI is the premier organisation of Earth Science in Indiathat studies various aspects of the mineral potential of the nation, evolution of life, fossils, earthquakes etc.GSI is also the nodal agency for landslide studies in India.The various activities and significant achievements of the organisation are available in the official website (www.gsi.gov.in).