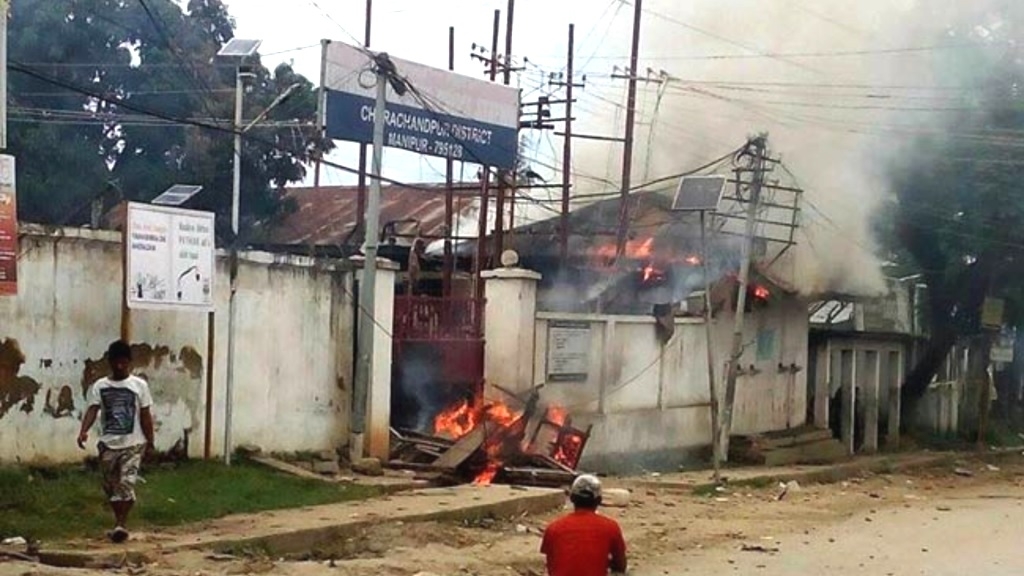 IT News
Imphal, Apr 29:
Hours after the Indigenous Tribal Leaders Forum (ITLF) ended its total shutdown in Churachandpur district, the office building of the Range Forest Officer in the Tuibong was set ablazed. The ITLF called a total shutdown on Friday protesting Chief Minister N. Biren Singh's visit to Churachandpur from 8 am to 4 pm yesterday.
The ITLF issued a press statement thanking the CSOs and people of Churachandpur for supporting the total shutdown adding that it has called off its total shutdown as it had already served. A report said that the grim situation was put under control after MLA Paolienlal Haokip of Saikot Assembly constituency intervened.
Report said that a group of people torched the office building of the Range Forest Officer in the Tuibong area around midnight, and several fire tenders were pressed into service to douse the flames.
Public property worth lakhs was reportedly destroyed and official documents were burnt in the blaze, a police officer said. Night curfew has been imposed in the district from 5 pm to 5 am from Saturday until further orders, according to official notification.
Prohibitory orders under Section 144 of CrPC and suspension of mobile internet services will also continue in the district, the officials said.
Even as there are reports of clashes between the police and the agitators at various places in Churachandpur district there are no reports of any human casualties. Around 13 people including 4 civilians were reported injured and hospitalized.
The eight-hour shutdown was called to protest against the eviction of Kuki villagers from protected forest areas.