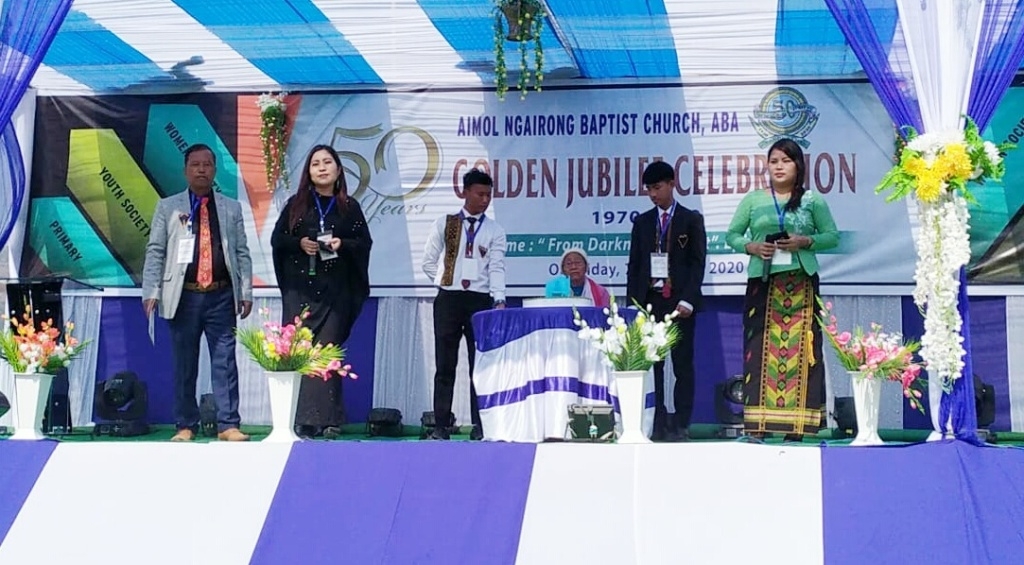 IT News
Tengnoupal,Feb.7
Aimol Ngairong Baptist Church Celebrated it's Golden Jubilee under the theme "From Darkness to Light" at Aimol Ngairong Village in Tengnoupal District today.
The inaugural programme was participated by Member of Autonomous District Council (ADC) Chandel Ch.Chanthoi, Director incharge CRC Guwahati Dr.W.Lanu, DI of ZEO Chandel Ch.Thangkholen, Retired Banker Ch. Neitingir Aimol and Retired Range Forest Officer Ch.Rangeilow as the presidium members.
As part of the celebration, a memorial stone (Jubilee Monolith) for the golden jubilee was unveiled by Rev.Semi Serto Executive Secretary ABA, Rev.S. Rengkhol Pastor 1EME Center Church & Rev.Lt.Ruitorkhup Paster ABA and Souvenir & History Released by Rev.Kh. Thangkhupchung Finance Secretary ABA in the morning session, after which S. Thangboi, Deacon pronounced the Invocation Prayer.
Rev. Boipu Serto Secretary of Youth & Education MBC attended the programme as Speaker. Wife of Founder of Aimol Ngairong Baptist Church L.Achimpi Cutting the Cake.
During the evening session, several artistes and local youth presented cultural songs and dances for the audience.
Chiefs of Several Village, Local Leaders, Pasters also took part in the celebration among others. A grand feast was also prepared for all.