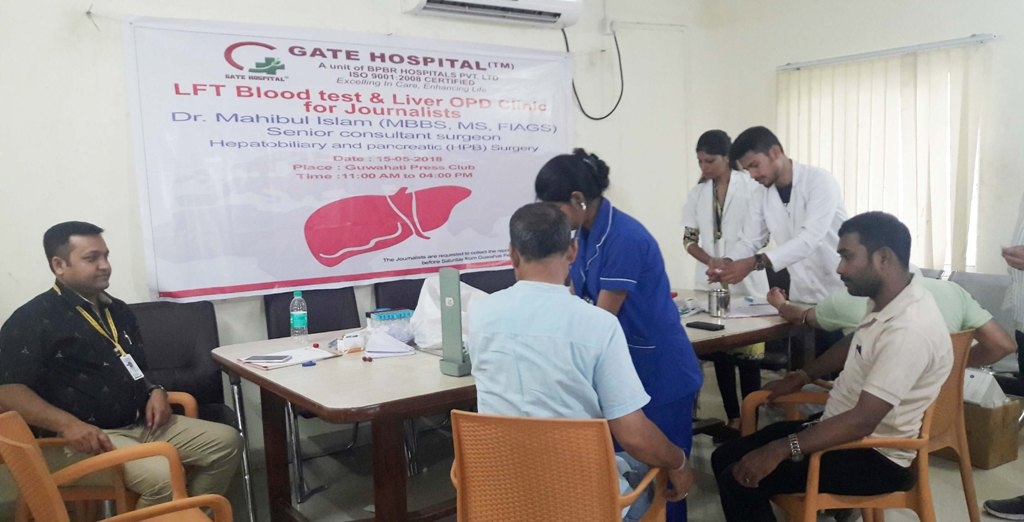 NJ Navatharia
Guwahati, May 24,
The city based GATE Hospital will conduct the next  media OPD clinic at Guwahati Press Club on May 26 where Dr Mahibul Islam and Dr Nabin Kr Banchal will be available for free consultations
from 1 pm to 4 pm. The participants of liver function test on May 15 at the press club premises can consult about their blood reports with the attending physicians.
Organized regularly for the benefit of press club member-journalists along with their close relatives, the Saturday camp will also facilitate the participants to check their weight, blood  pressure &
sugar, informed Mintu Ranjan Dutta, an executive of the newly launched healthcare institute.
One of the active press clubs in northeast India has been running a weekly OPD clinic for the benefit of journalists for nearly  two years now. Till date, the initiative has been supported by Down Town
Hospitals, GNRC Hospitals, Apollo Hospitals (Guwahati and Chennai campus), SIMS Chennai Hospital, Medanta the Medicity Hospital (Gurgaon), Manipal Hospital (Bangalore), Fortis Bangalore Hospital,
Health City Hospital, Ayursundra Hospital, Nemcare Hospital, Wintrobe Hospital, Barthakur Clinic, Sun Valley Hospital, Rahman Hospital, Sight First eye-clinic etc.