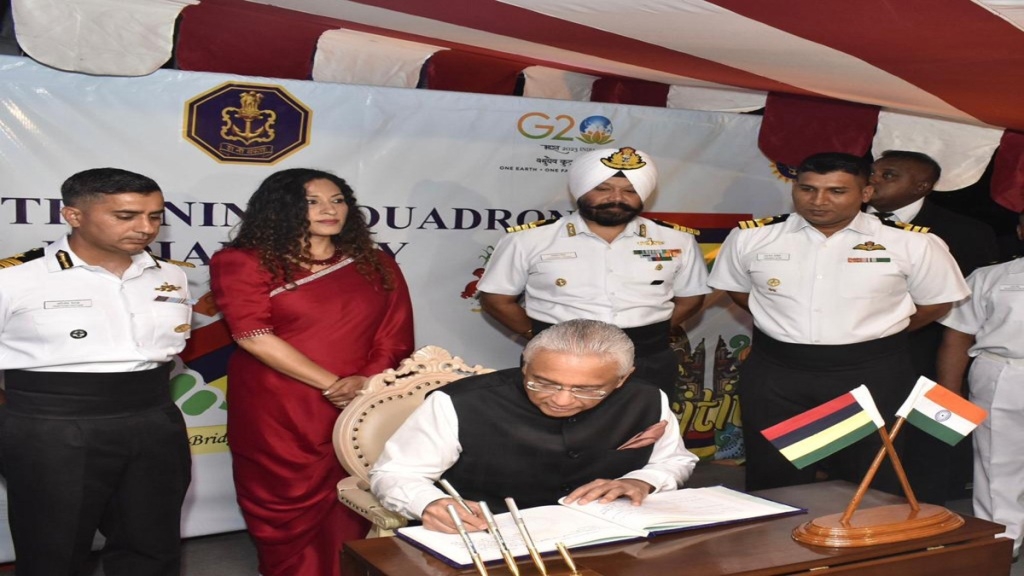 By Raju Vernekar
Mumbai, Mar. 16
The ships of First Training Squadron (1TS) (INS Tir, INS Sujata and ICGS Sarathi) visited Port Louis, Mauritius from March 11 to March 11 as part of goodwill mission during which the Naval personnel from both sides interacted with each other.
The ships took part in the 55th Mauritius National Day on March 12, wherein the ships were dressed overall and open for visitors. More than 1000 visitors were familiarized with various equipment and training facilities onboard. A joint performance of the Indian Navy Band and the Mauritius Police Force Band was held commemorating the strong bond between the two countries.
The ships undertook professional interactions, training exchanges as well as friendly sports fixtures with the Mauritian Coast Guard. MNCG trainees visiting the ship were provided an insight into various aspects of training which included watch keeping, electrical, engineering, aviation and fire fighting & damage control.
The Indian trainees visited Mauritian Maritime Air Squadron, Police HQ Squadron and Coast Guard Training School.
A reception was hosted onboard INS Tir with the Prime Minister of Mauritius, Pravind Jugnauth as the Chief Guest. During his address on the occasion, he acknowledged the efforts of the Indian Navy, for the assistance provided during joint operations towards removal of pollutants from grounded vessel off St Brandon Island.
In line with the Indian Navy's commitment as preferred security partner, 1TS undertook passage exercise (PASSEX) with MCGS Baracuda and joint EEZ surveillance.
The primary aim of the 1TS is to impart sea training to Naval and Coast Guard trainees, with a 24 weeks ab-initio sea training being imparted. All the trainees are trained in Seamanship, Navigation, Ship Handling, Boat Work, Technical aspects, etc. whilst being exposed to the rigours of life at sea, so as to earn their "sea legs".