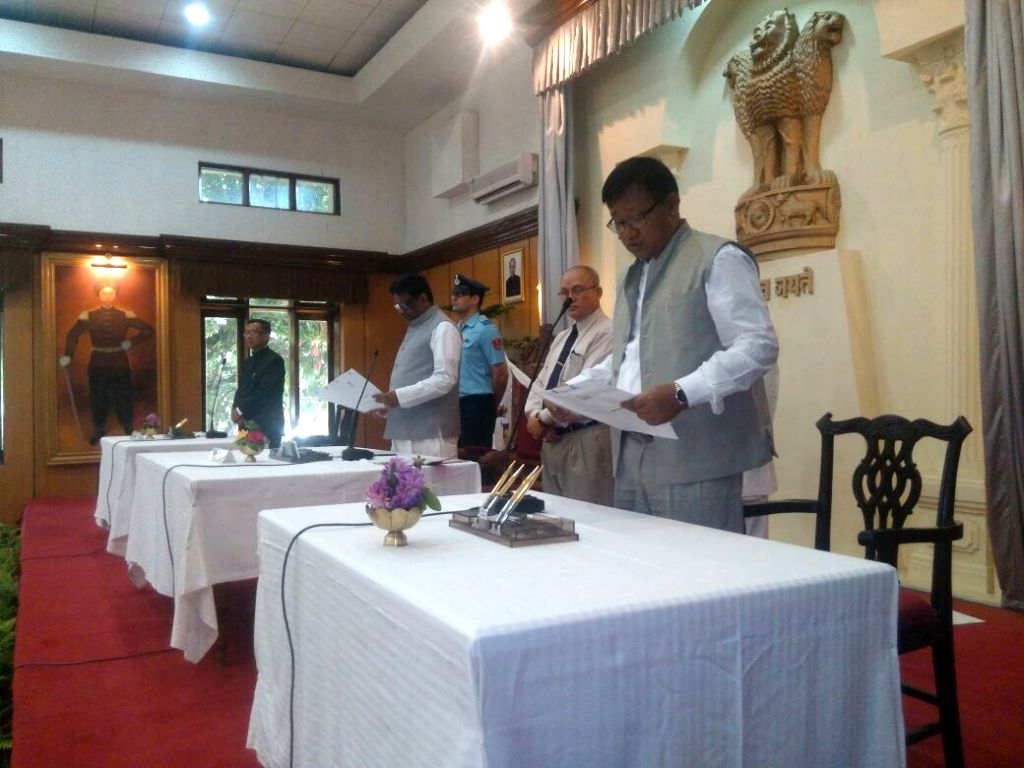 Imphal April 12: Finally Chief Minister Okram Ibobi Singh seems to have left with no other choice to calm the anger of the dissident MLAs as he was compelled to replace three of his minister with three new faces. But it is still a long way to give comment on whether the crisis inside the Congress party is settled or not. Amidst threats from the Ministers as well as the dissidents MLAs , three MLAs took oath as cabinet Ministers today at Raj Bhavan. Three cabinet ministers including two senior most Congress legislators Th Devendro and Phungzathang Tonsing have been scrapped from the ministry. The other Minister who was replaced is Fancis Ngazokpa.
The three MLAs who administered oath as cabinet Ministers are Ksh. Biren of Lamlai Assembly constituency, P Manga Vaiphei of Henglep Assembly constituency and D Karungthang of Tengnoupal Assembly constituency.
Governor of Manipur V. Shanmuganathan administered oath to the three newly inducted cabinet Ministers at Raj Bhavan at around 2 pm today. Chief Minister Okram Ibobi, Dy. Chief Minister Gaikhangam, Deputy Speaker Preshaw Shimray, Commerce and Industries Minister Govindas Konthoujam, Agriculture Minister Md. Nashir, IFCD Minister Ngamthang Haokip, PHED Minister Hemochandra, Education Minister Okendra, Works Minister Kh. Ratan and other MLAs including TN Haokip who is also the president of MPCC, K Ranjit, N Biren, RK Imo and others attended the oath taking ceremony.
Interestingly the three cabinet Ministers who were replaced today did not turn up. Besides, Social Welfare Minister AK Mirabai and Speaker Th Lokeshwar were not seen during the oath taking ceremony.