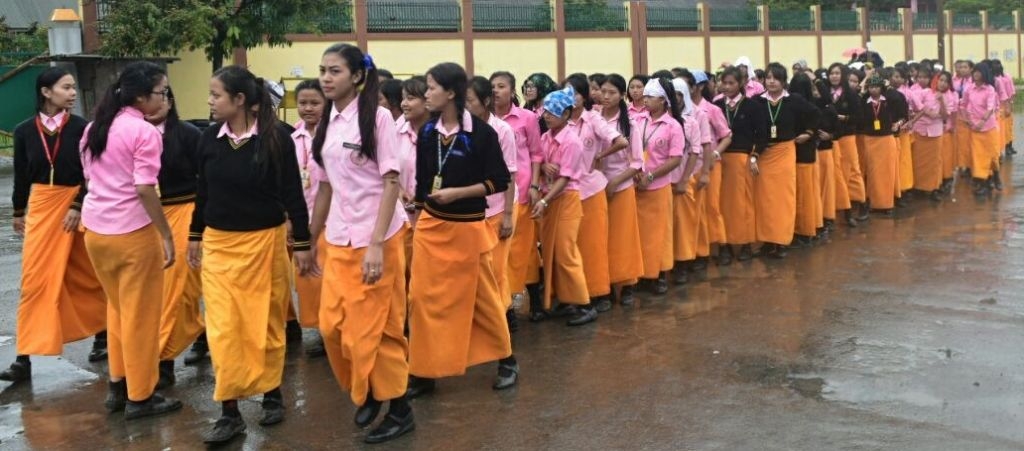 Imphal, July 25: A team of Singjamei Police and Child Welfare Committee, Imphal East evacuated one of the students who have been undertaking a fast-unto-death protest at Singjamei Wangma Kshetri Leikai today afternoon around 12:30 after health condition deteriorated.
The student has been identified as RK Sitam Singh s/o Rk Maipaksana of Kongba Uchekon Chongabi, Imphal East. Sitam is 12 Arts student of Johnstone Higher Secondary School and is undergoing treatment at JNIMS Hospital as he was in unconscious state at the time of evacuating to the hospital.
Three students namely Irom Jotinkumar of Liberal College, Thokchom Leonardo of CC Higher Secondary School and Ningthoujam Linthoi of Lamlong Higher Secondary School continued their fat-unto-death protest which began from July 22 at Singjamei Wangma Taba Kshetri Leikai Thongkhong.
Meanwhile, braving heavy downpour, around 50 students of TG Higher Secondary School staged a protest rally from the school premises to Singjamei Taba Kshetri Leikai Thongkhong demanding immediate implementation of ILPS in the state and immediate withdrawal of wanted tag on former JCILPS convenor Kh Ratan without any condition.
Around 12 of today afternoon, a team of Imphal-West Police lock down the school gate of TG Higher Secondary School using iron bar from outside the premises to avert any form of agitation to be carried out by the students of TG but later after a long conversation with the students, teachers and police team, a peaceful rally was carried out from Nityaipat Chuthek to Singjamei Bridge passing through Mayai Lambi.
Local club, Meira paibis and students have prevented heavy vehicles, auto-rickshaws and other vehicles from passing through Singjamei Bridge area to avoid undue disturbances at the protest site where road stretch passing through Singjamei Bridge will remain close starting from tomorrow, said a member of the local club.