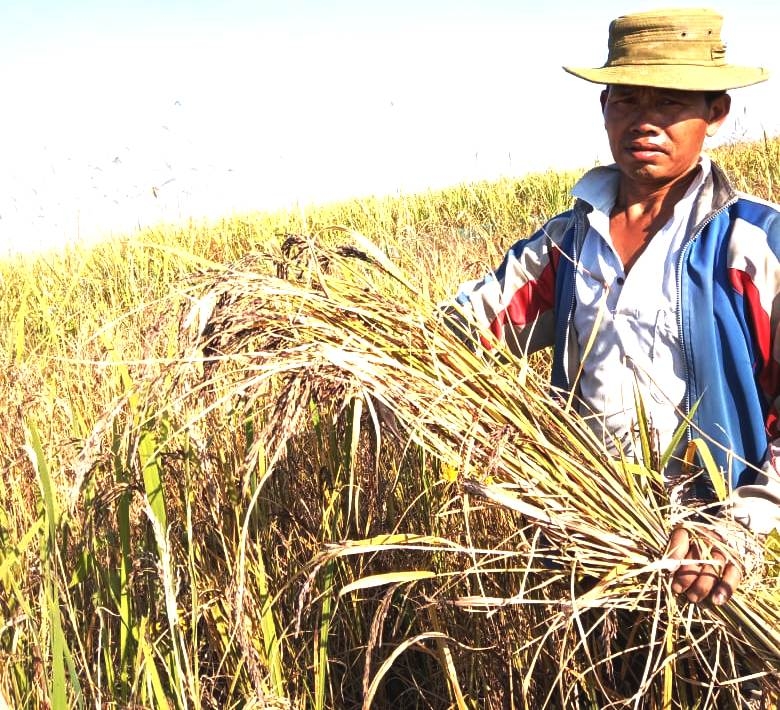 IT News
Imphal, Jan 3,
A farmer from Ngaikhong Siphai in Bishnupur district successfully cultivated Black rice at floating biomass in Loktak Lake at an area of ½ hectare and successfully reaped 15 bags of black rice (Poireiton Chak hao) with each bag containing 75 kilograms.
"I have firm believe that cultivation on bio mass at Loktak lake would be possible, so I tried on experimental basis", Thiyam Iboyaima, the farmer who surprised his fellow farmer said to Imphal Times.
Floating biomass is often considered as waste land and remains unused for many years. The biomass contains rich nutrients. But as no proper research are conducted by farmers of the area, have no knowledge that the floating bio mass could be utilized as cultivable land for paddy.
On May this year Thiyam Iboyaima, the farmer started leveling the floating Biomass which is located around 45 minutes ride on canoe at Tharopat Awang (Ngaikhong Siphai Maning). P. Devakanta, an agriculturist supported the work of Thiyam Iboyaima after he shared his idea of cultivating at the floating Biomass. Without delay, P Devakanta gave him seeds of Poireiton Chakhao (Black rice) to Iboyaima. Iboyaima also got support from All Manipur Trained Medicinal Plant & Aromatic Plants Promoter Consortium in his innovative idea.
Dr. RK Ronendro, a member of the Consortium, while talking to Imphal Times said the members were surprised to the idea of cultivating rice at floating Bio Mass.
"We take no time to support him", Dr. Ronendro said.
"I starting the plantation work on June 19, 2018",   Thiyam Iboyaima said and added that he expect to reap 30 bags of rice.
"In August due to accumulation of floating biomass I could not sail my canoe to the place where the cultivation was on", Iboyaima said.
The said month was important for farmers to take care of the cultivated field as pest usually attacks the crops. He said that it takes some time to clean the passage to the cultivation site and finally he used Seed Guard to save his crop. And by the time when he was supposed to reap the crops, bird started landing on the field. Iboyaima really have hard time taking care of the crop as he did not want to hurt the birds.
The crop was reaped in 100 days and total expenses was Rs. 20,000/- Iboyaima said and added that he sold the 15 bags for Rs. 50,000/- that means he earned Rs. 30,000/- in hundred days.
If cultivation can be done in floating Biomass it would be a hope for many farmers who are settling in the periphery of Loktak Lake.