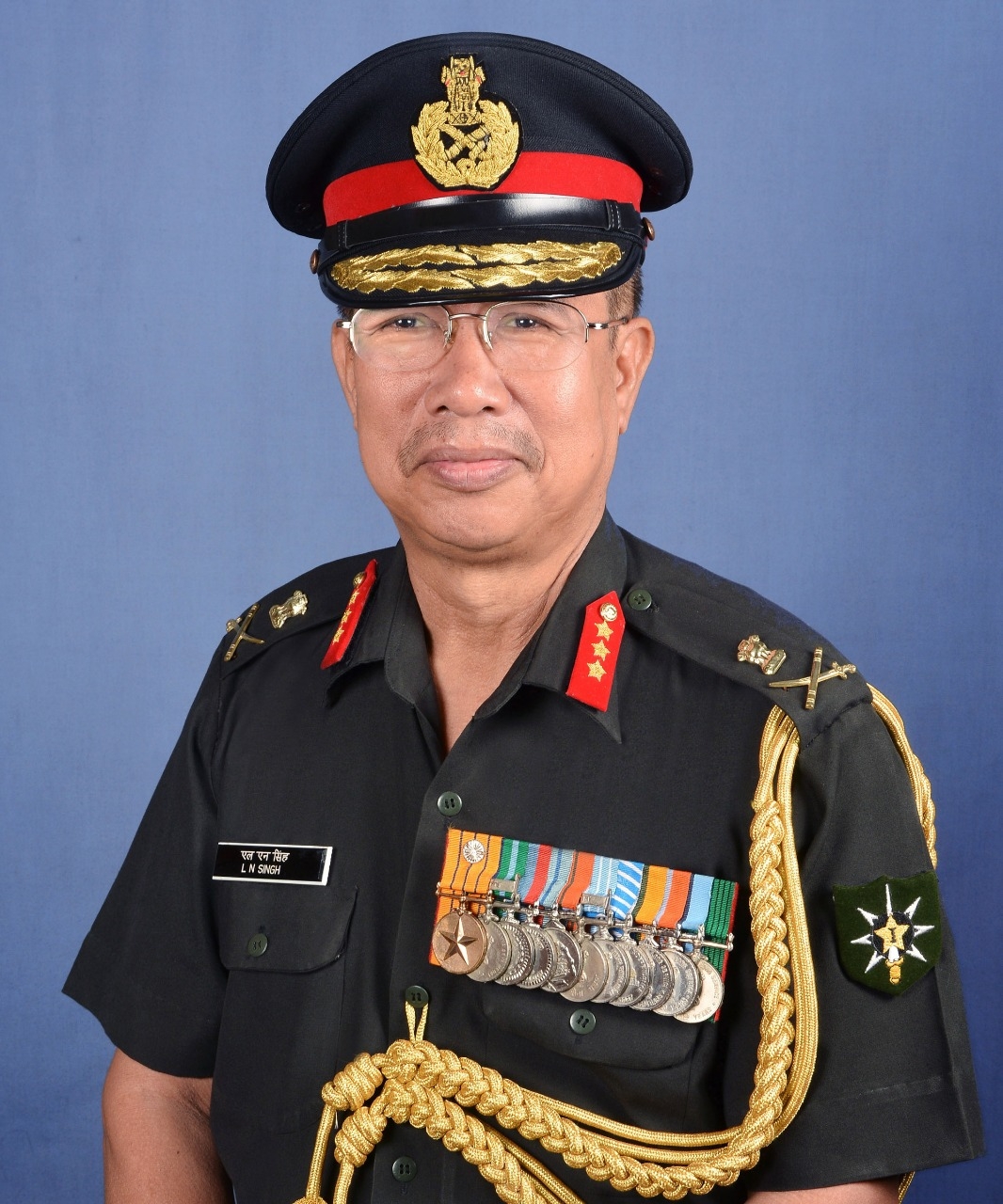 IT News
Imphal, Nov 30
One of the most distinguished son of Manipur retires from service. Lt Gen LN Singh, VSM**,  the third Lt Gen ever from North East and second from Manipur is hanging up his uniform today after nearly 40 years of glorious services dedicated to the nation. Currently he is the only serving Lt Gen from the North East.
Lt Gen LN Singh, VSM** had his early education from Thingen LP School at Konok Thingen. The school did not have either walls or chairs and tables; the students were required to carry 'bori' (gunny bag) to sit upon. His next schools were Gurukul Junior High School and Tombisana High School. He joined Sainik School, Purulia in 1968. Being from a very poor family with 10 siblings, there was no electricity and the house was a thatched hut, with the roofs liking when it rains. Kerosene lamps were used for lighting. Hence, getting up early in the morning for studies was normal.
Being from a Manipuri medium school, when he joined Sainik School, he was absolutely at a lost. In fact, neither could he converse with other students, who were all non- Manipuris, nor understand what was being taught. In fact, in the first monthly test, he managed to score barely 80 marks only out of 800, of this approximately 50 marks were for drawing, thereby, he managed to score 30 out of 700.
However, he worked very hard and eventually did exceedingly well, coming out with flying colours at the end.
In 1975, he joined National Defence Academy, Khadakwasla, Pune and finally got commissioned into the army on 09 June 1979 at the age of 20 years only. Those days he could not even cast a vote as the minimum age for voting was 21.
He has served all over India and was in Bhutan for 3 years. He visited Myanmar a number of times since 2001 as a part of our delegation. On 26 February 2010, when the Indian medical mission in Afghanistan was attacked, he led the rescue mission. In fact, Maj (Dr.) Laishram Jotin was martyred during this operation. Lt Gen L N Singh, VSM** was contributed  towards ensuring award of Ashok Chakra to Maj (Dr.) Laishram Jotin.
The general officer and his wife have travelled to nearly 25 countries. The general represented the country in military to military contacts with a number of countries in India's strategic interest including USA, UK, Afghanistan, Iran, South Africa, Myanmar, Bhutan, Bangladesh, China amongst others.
He contributed in bringing peace to Assam and was deeply involved in accords with the Bodos and ULFA.
He is a thinking General.  As the senior most officer of his Corps, he contributed to reforming and revamping the security and intelligence set up of the country. He is diligent, mature and  passionate of task assigned to him. He is extremely honest and his integrity is beyond doubt. He runs his organisation well and is very popular with all his co-workers. He can work nearly 13 to 15 hours a day, sleeping/ resting barely 5 to 6 hours and normally gets up at 4 am in the morning. His biggest assets is his ability to visualise the future scenerio through a thorough SWOT ( Strength, Weakness, Opportunity and Weakness) analysis.
During his long career of 40 years in the Army, the General has carried out in a number of operational and sensitive assignments.  He is an expert in the field of Intelligence and Security, besides he has an in-depth knowledge of China, Myanmar, Afghanistan, Pakistan and North East. He has vast experience in teaching, training and handling of educational institutions.  For the last five years, he has been the head of a World class premier educational institute of the Army, where professional and fresher from India and foreign countries were imparted basic and advance military education. He has also served as a professor in Army War College and also in Indian Military Training Team in Bhutan.
His a nationalist and in his spare time he has been doing social work and contributing as a think-tank for the betterment of the society.  After his retirement, his 40 years of experience in the Army should be utilized for the Nation specially for the betterment of North East and Manipur.
Post retirement, he has declined offers from Multinational Companies as he intends settling down in Manipur but he has no house and is planning to stay on rent. His expertise and experience could be fruit fully utilize by the central and state government for the betterment of the state and society.