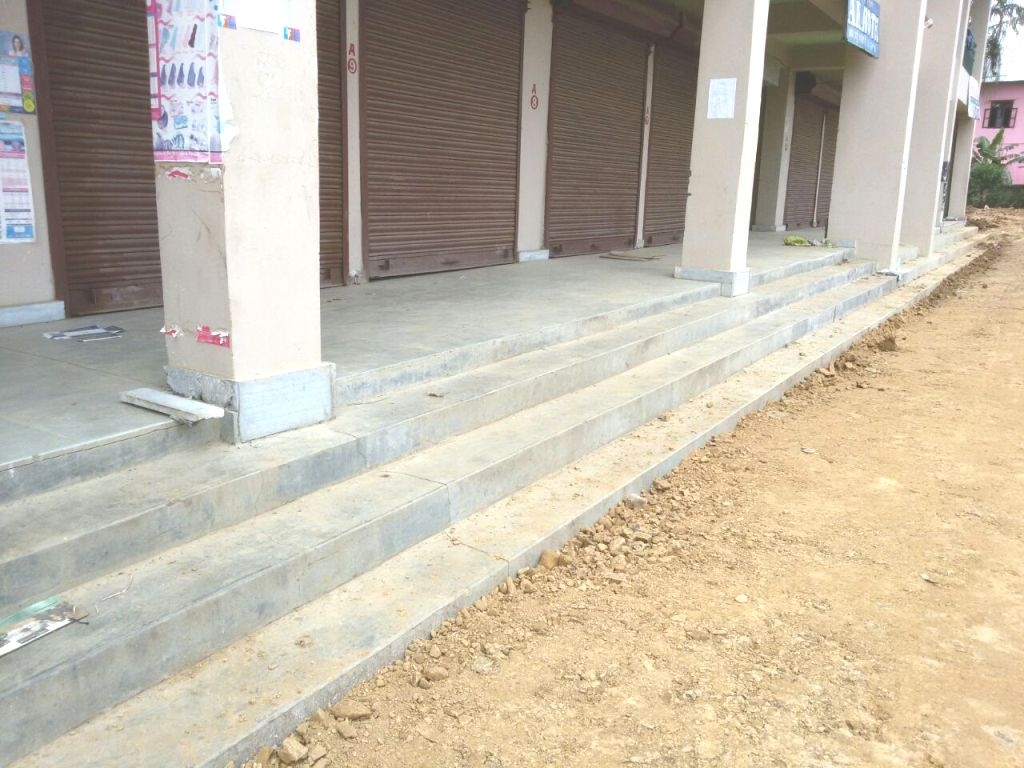 Imphal, June 26: Officials of state Public Works Department (PWD), Govt. of Manipur today showed the mended portion of the tilted double-storied shopping complex at Thoubal Wangmataba to Chief Minister Okram Ibobi Singh who personally went for inspecting the complex today morning.
It is not clear whether the Chief Minister is being ridiculed or acting intentionally, but he was not taken to take stock of the crack portion appearing in the middle of the double-storey building. The PWD officials led by one SE identified as N. Subash showed him the mended portion of the building only. The official was heard telling the Chief Minister that there is no danger foresee in the building in the coming days.
Explaining on why the crack appeared some two days ago at the front portion, the PWD official took excuse of the heavy vehicle (loaded truck) which frequently pass the way for renovation works currently undergoing at Ima Panthoibi Temple complex which is located at some few metres away at the southern side of the building.
Later, the PWD official stated that the tilted portion can be supported by constructing pillar from the other end and making it as frame.
Chief Minister Okram Ibobi was accompanied by the DC Thoubal, SP Thoubal and Chairperson of the Thoubal Municipal Council.
Interestingly, the building of the Thoubal Municipal Council (TMC) which is located close to the market complex was also equally notice in endangered condition in the last two days. But, no heavy vehicles pass along the route.
"How could the passing of the heavy vehicles a reason for the development when the same is happening at the other building where heavy vehicles don't pass?" a local said to media persons.
This reporter also witnessed no presence of any representatives from the Simplex Company which had officially constructed the market complex.
The crack portion appeared on the ground was reportedly mended only yesterday evening as this reporter have photo evidence of the market shed taken late afternoon.