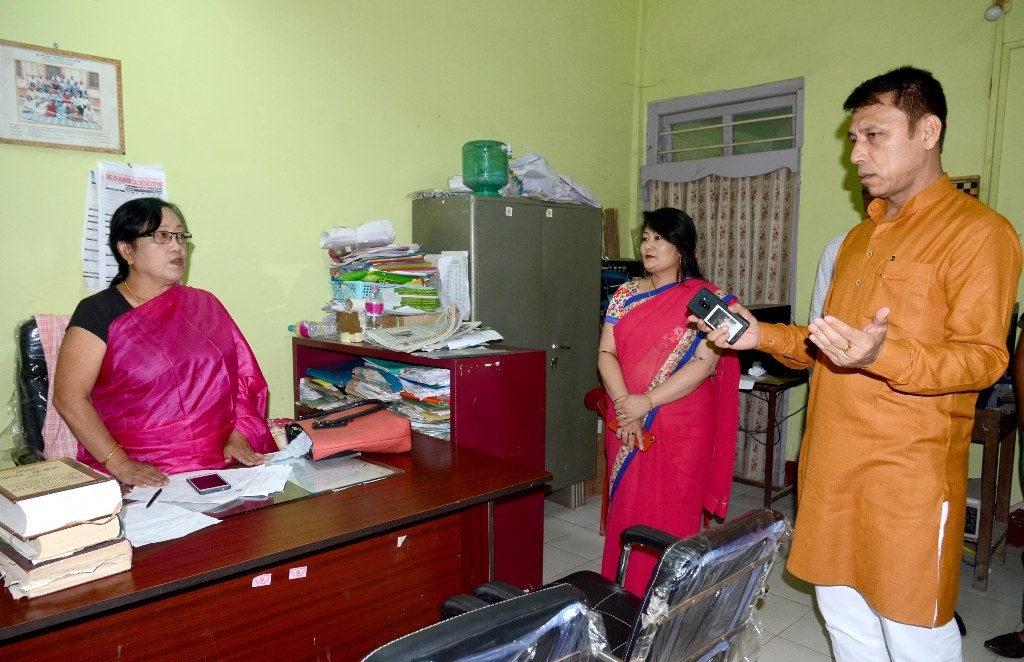 DIPR
Imphal July 9,
Education Minister Thokchom Radheshyam and officials of Directorate of Education (S) today inspected the Tamphasana Girls Higher Secondary School, Imphal; Hindi Teachers Training College and Dhanamanjuri College of Teachers Education at D. M. College Campus.
At Tamphasana Girls Higher Secondary School, Imphal, the Minister said that the students performed exceedingly well in the Higher Secondary Examination (HSE)-2019 with pass percentage of 92.36% compared to 54.9% in 2018. With the high performance in the HSE, there has been an increase in demand for admission to the school, he added.
Th. Radheshyam also stated that maintaining proper infrastructure of the school is essential towards bringing a quality education. He said that the increase in student intake capacity has also increased the pressure on existing infrastructure and added that four additional classrooms will soon be constructed.
The Minister was also highlighted on the need of a proper toilet facility for the hostel students. He assured that a temporary toilet will be set up within one or two months at the ground floor of the hostel building. The school has been playing an important role in imparting girls' education in the State. It is one of the best government schools of Manipur and for the country as well, he added.
The Principal of Tamphasana Girls Higher Secondary School, Smt. A. Sangeeta Devi stated that the student intake capacity for the current academic year has increased by 100 students and overall total student capacity is around 1700. She also said that each class has student strength of 100 each. The Minister also suggested that there is a need to increase the number of section from four sections to five sections.
The Minister later inspected the Hindi Teachers Training College and Dhanamanjuri College of Teachers Education both located at D. M. College Campus. He said that teachers are one of the important constituent of education system. They play a major role in imparting education to the young minds. He said that it is important that the quality of training is improved at teachers' education center, which is also one of the main priorities of the government for the teachers. With regard to the visit at the Hindi Teachers Training College, he said that Hindi is used as a common language for communication across the country. He said it will be beneficial to impart the basic knowledge of hindi which will be helpful for those who travel outside the State in communicating with others. And therefore the importance for the quality training of the trainers at the colleges is important to prove better education for Hindi to the people. He also sought the support of every stakeholder in any developmental steps being taken up for the betterment of education sector.