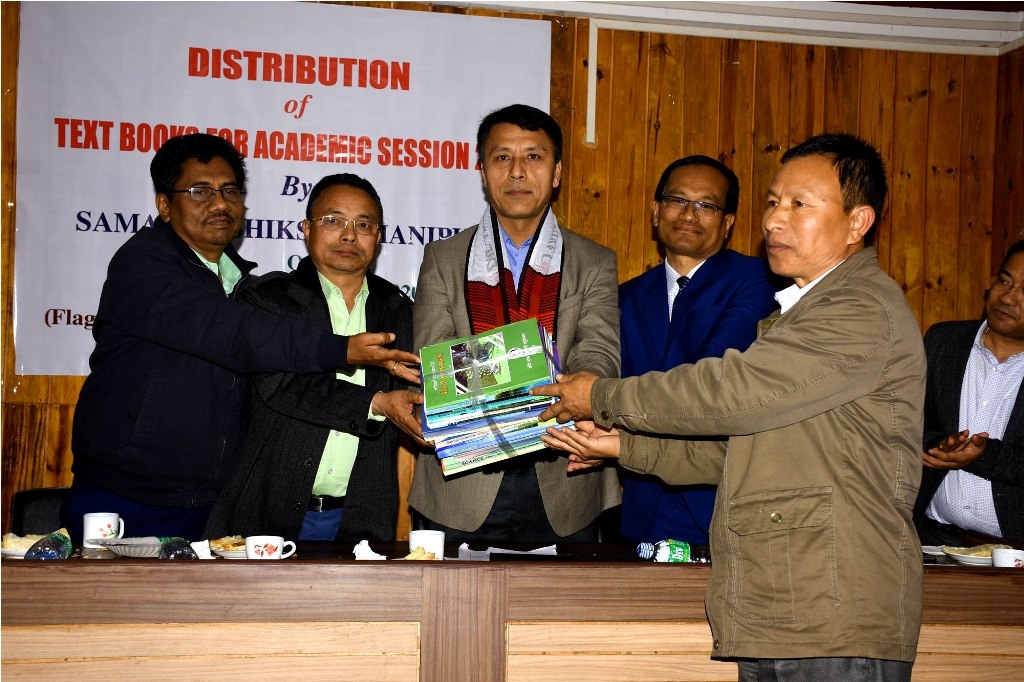 IT News
Imphal, Jan 6
 Education Minister Dr. Thokchom Radheshyam distributed free text books to Zonal Education Officers (ZEOs) of Imphal East and Kamjong as the first phase of Distribution of Free Text Books under the Samagra Shiksha Manipur on Monday. These books for academic session 2020 will be provided to the students of government and government aided schools for Classes I – VIII. Altogether, more than seven lakhs of free text book has been allocated for 17 (seventeen) ZEOs.
Dr. Thokchom Radheshyam lauded the officials of Board of Secondary Education Manipur (BSEM) for timely completion of printing the text books. He expressed that it is one of the achievements that this year the text books are being distributed to the ZEOs on time unlike previous years. The Minister was speaking during the Distribution of Text Books for Academic Session 2020 organised by Samagra Shiksha Manipur, held at its office's Conference Hall, Babupara.
He said that the education department has many issues, problems and faces many complaints as well. The department is trying its best to come up with solutions and solve the problems one by one to make education better. He said that every year hundreds of teachers retire from service on superannuation and as a result many post are vacant. Education department cannot function without adequate teachers.
Director Education (S) Th. Kirankumar said that the timely completion of printing text books was able to achieve under strict guidance of the Education Minister. He explained that in order to achieve the target of availing text book timely, certain rules and regulations followed by BOSEM for buying of paper and issuances of order for printing to the firms were slightly modified. The printing of text book are carried out in different local printing firms.
Provision of text books to students free of cost is one of the basic necessities for children to access in school education under the Right of Children to Free and Compulsory Education Act 2009, popularized as RTE Act 2009, which envisages the importance of imparting free Elementary Education to all students in Government and Government Aided Schools in the country.  
The Minister also flagged off the books to be delivered to the respective zones.