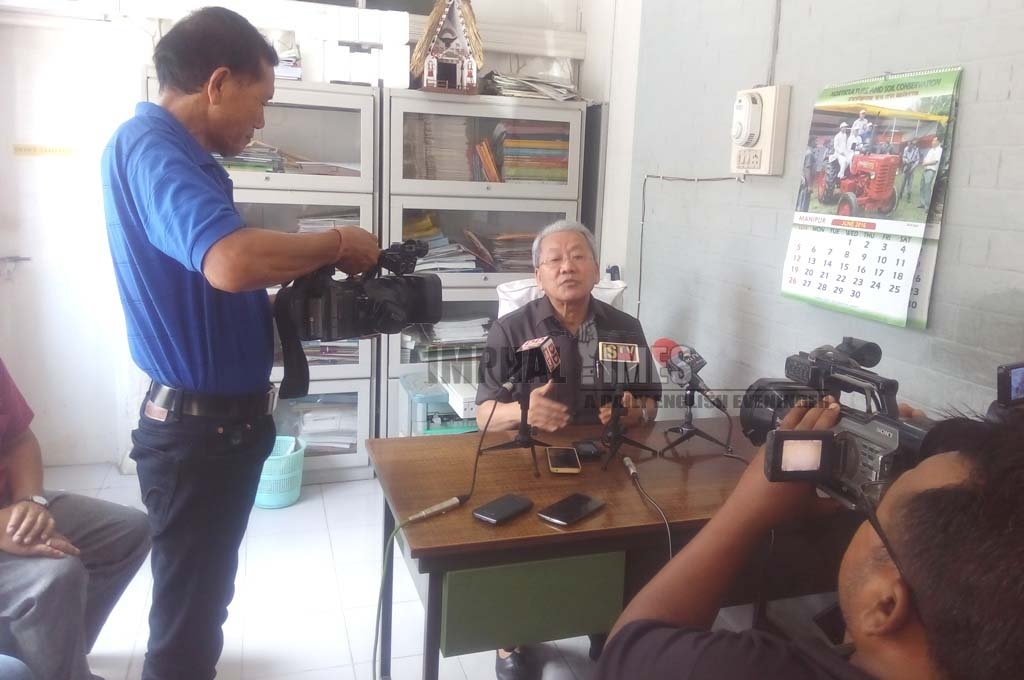 Imphal, June 6: Deputy Chief Minister, Gaikhangam today lambasted BJP Manipur Pradesh delegation over its statement on the seeking of appointment for prime minister.
In a press conference held today morning at his official quarter at Babupara here in Imphal before leaving for New Delhi, Gaikhangam said that state government had officially written seeking appointment of the prime minister as the state government felt it as top most priority.
"Besides, Chief Minister Okram Ibobi had also personally written using his own letter head to give appointment to the all political party delegations", Gaikhangam said.
The all political party delegation which started leaving for New Delhi from June 3 is on their mission to apprise the central government leadership to get presidential assent of the 3 ILPS related Bills.
"There are no differences of any political parties in the state regarding the 3ILPS related Bills passed by the Manipur Legislative Assembly on August 31", Gaikhangam said.
This issue is of the people of the state and playing blame game will hindered to the government's move for apprising the central government to get presidential assent of the 3 Bills, the deputy Chief Minister added.
He further said that it is not good for any party or individual trying to get credit from the peoples' issue.
The All political party delegation had finally decided to go to New Delhi and apprise the Central government leadership including the Prime Minister as it took too long in giving assent to the 3 ILPS related bills passed by the state government.
When it should be collective effort it is unfortunate that the state BJP delegation met the Union Home Minister separately and spread propaganda that the state government had not seek appointment of the prime Minister.
Gaikhangam further added that it is no harm in giving pressure to the Union Home Ministry or the PMO to give appointment to the All political party delegations as the BJP is leading the government in the center, but taking advantage and playing blamed game is an act of opportunist.
Wanted tagged to JCILPS leader Kh Ratan
On being questioned about the wanted tagged to JCILPS convernor Kh Ratan within 24 hours after a national daily newspaper reported about the leader having nexus with an UG group, Gaikhangam said he could not give any official statement as it would be subjudice as the matter is in court.
On the other hand the Deputy Chief Minister said that the two students Bidyalaxmi and P Bruce, who were arrested by the police in connection with the ILPS agitation staged in front of the office, will be released by following judicial procedure within 10 of this month. He said that the Home department had directed all those concerned official to complete procedure for the release of the two students by June 8 however, as certain procedures had to be followed the date of released may delayed by a day or 2 but, not more than that.