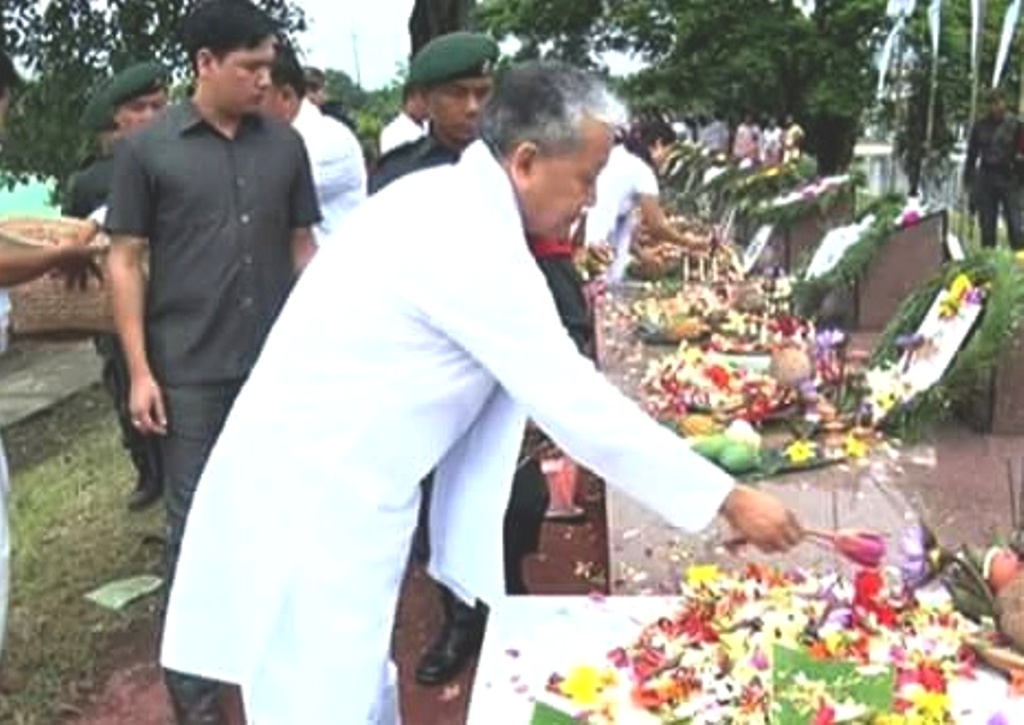 Imphal, June 18: Thousands of people including Deputy Chief Minister, Gaikhangam today paid floral tribute to the martyrs of June 18 at its memorial site located at Kekrupat here in Imphal.
A total of 14 people were killed and many sustained serious injury on this day of 2001 in a spontaneous uprising against the extension of cease fire against the Government of India and NSCN-IM after the signing of an agreement at Bangkok on June 14, 2001. The wilderness of the people lasted for around 2 months leaving the central government with no choice but to lift the three words "without territorial limit" of the cease fire extension on July 27, 2001. During the course of agitation as many as 23 people died at different incidents.
United Committee Manipur (UCM), an apex body of various civil society organization in the state formed in the aftermath of the infamous June uprising and All Manipur United Club Organization (AMUCO) jointly observed the day as "Great June Uprising, Unity Day" at the memorial complex of the martyrs at Kekrupat.
Deputy Chief Minister, Gaikhagam, Social Welfare Minister AK Mirabai along with thousands of people offered floral tribute to the memorials of the martyrs. Thang ta troupe also paid respect to the martyrs.
Even though government had not announced June 18 as state holiday most of the government offices witness thin attendance, Schools, colleges and University remained closed. Almost all shops and business establishment in and around Imphal area remained closed today even as no bandh or general strike was called. Inter district passenger service buses also suspended for a day as the buses has been hired by various clubs and organizations for transportation of those people from far flung area who wished to pay tribute at the martyrdom. 
UCM and AMUCO also jointly organized a memorial service at Kekrupat complex. Various leaders including President of UCM Elangbam Johnson, President of AMUCO Dr. Y Mani Khuman, Representatives of various communities inhabiting in the state, social activist reiterated stand to protect the territorial integrity of the state.