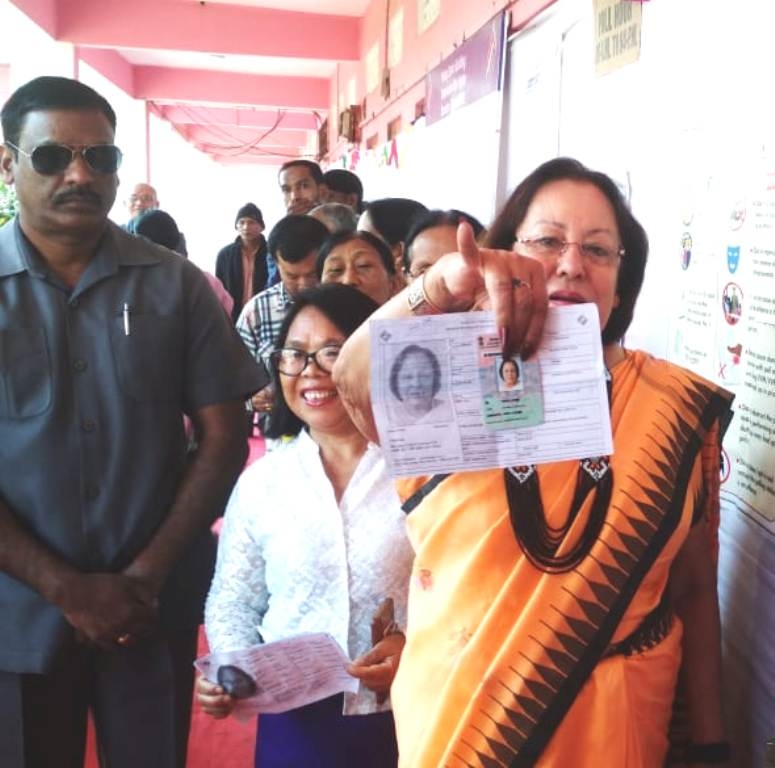 IT News
Imphal, April 18,
Governor of Manipur, Dr. Najma Heptulla, who is the first governor to have her name included in the voters' list of the state, today exercised her franchise in Inner Manipur Parliamentary Constituency for the 17th Lok Sabha Election.
Governor Dr Heptulla was earlier enrolled in New Delhi. She enrolled in the electoral roll of the state and cast the vote at all women polling personnel manned 11/34 Old Lambulane (B) polling station which have 436 voters including 231 males and 205 females, located in the heart of Imphal town at 7:15 am.
Dr Heptulla became the first voter to cast at the well decorated western wing of old lambulane Polling station.
Speaking to reporters after casting the vote, Dr Heptulla said one should cast their vote and that no one should waste their votes. On less participation of women in electoral politics, she said she had been fighting for this since she started to vote. After Beijing declaration, she said she had made a statement in Parliament for more representation of women in Parliament.
Chief electoral officer (CEO), of Manipur P K Singh who accompanied the Governor to the polling booth said that the Governor's move can be considered a good sign of being a responsible citizen.
The Election Commission of India (ECI) has even launched a national campaign recently titled 'It's so easy' to encourage people to move their vote to their present place of residence.