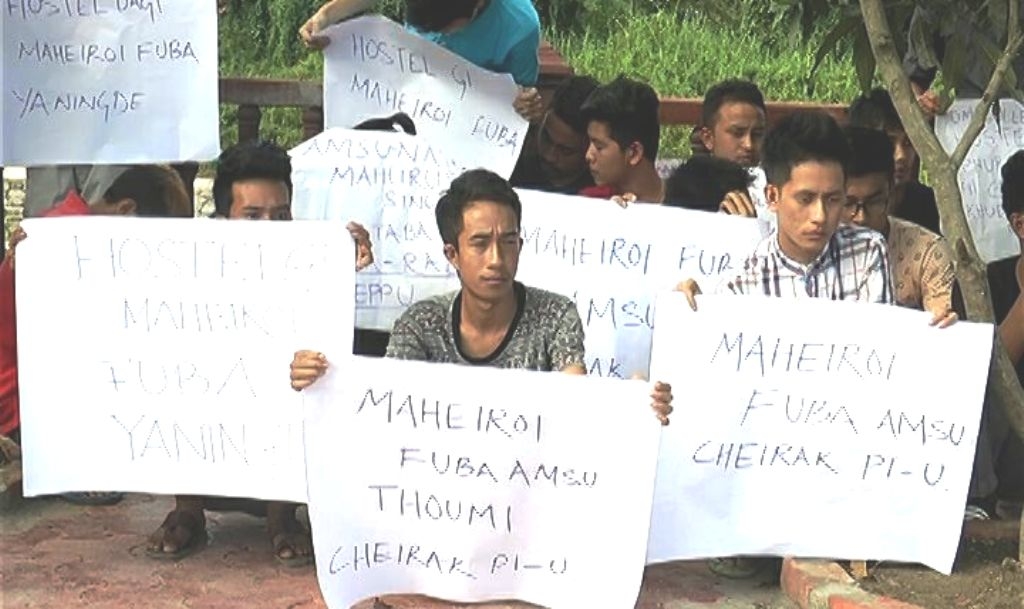 Imphal, Oct 15: Around 50 students of DM College of Arts today staged a protest rally demanding immediate action against the members of All Manipur Students' Union (AMSU) for allegedly assaulting two students of DM College of Commerce on the night of October 14. The students also demanded immediate shifting of the AMSU Head Quarter office from the complex of the DM College.
The student protestors carried out the protest at around 2:15 pm unexpectedly from the Governor Gate area carrying placards condemning the assault of the two students of DMC Commerce.
The protestors were halt up at the traffic island near Chief Minister Bungalow by a team of Imphal Police Station when they tried to submit a memorandum to the Police station itself demanding to arrest and award appropriate punishment to the responsible persons of AMSU including shifting of the AMSU Head Office from DM College Campus.
The student protestors were later dispersed by a police team and sent back to DM College campus.
Report said that Khelemba of Wangoo, a B.Com 3rd Semester student and Clinton of Thanga a BA 1st Semester student were assaulted by the members of AMSU at the gate of DM College of Commerce boy's hostel at around 9:30 pm of October 14, 2016.