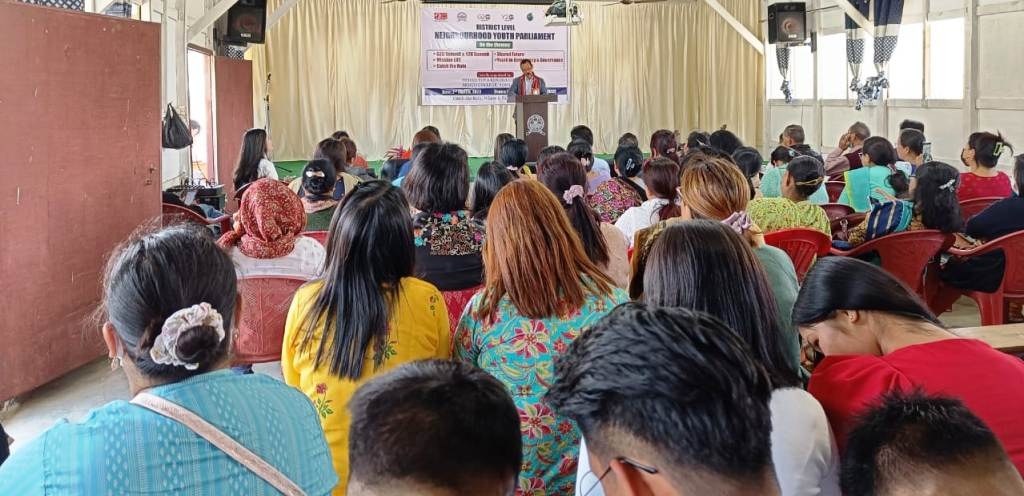 IT News
Imphal, Mar 2:
As an engagement of youths and awareness program on Indias G20 Presidency, Nehru Yuva Kendra (NYK) Chandel and IQAC Cell, Dept of Political Science, South East Manipur College (SEMCO) Komlathabi jointly organised Neighbourhood Youth Parliament at district level for Chandel District Manipur, on the G20 theme of "Vasudeva Kutumbakam" focussing on G20 & Y20 Summit, Mission LiFE with emphasis on Y20 theme: Shared Future: Youths in Democracy & Government and Catch the Rain Campaign on 2nd March 2023 at Seminar Hall, SEMCO Komlathabi.
The District Youth Parliament and Launching of Catch the Rain Project Phase III of NYK Chandel was attended by Dr. L. Khiloni Principal SEMCO Komlathabi, Mothel Salka SDC HQ as representative of DC office Chandel and Michael Thangminlien Mate DYO NYK Chandel as President, Chief Guest and Guest of Honour respectively. The program was moderated by Dr Miranda Bembem Mutuwa, IQAC & Asst Prof SEMCO. After a welcome address by Shri Sorkhaibam Hardidas Singh, Head of Dept of Political Science SEMCO, the dignitaries gave sports speeches exhorting the youths on leadership, volunteerism, engagement etc with Michael Mate in his keynote address deliberating on salient features of National Young Leaders Program (NLYP), Neighborhood Youth Parliament (NYP) and Catch The Rain project of National Water Mission. The Chief Guest of the program Mothel Saka SDC also led the youths in a Water Pledge and Officially Launched the Catch The Rain Project for Chandel.
In the second session, 10 selected students- 5 from SEMCO and 5 from United College Chandel gave short talks on various topics of Y20 Summit followed by the 2 Resource persons- Smt Sweet Roel, Asst Professor, Dept of Pol Sc, SEMCO who spoke on the topic Shared feature and Youth in Democracy & Government and Miss Celine Roel Ringriih Asst Prof. Dept of Zoology SEMCO who spoke about Mission LiFE with emphasis on Catch The Rain. These were followed with a short speech on the weeklong celebration of International Womens Day 2023 cum Vote of Thanks by Mercy Haokip, National Youth Volunteer NYK Chandel. The program was closed with a short prayer by Dr. L. Khiloni Principal SEMCO.