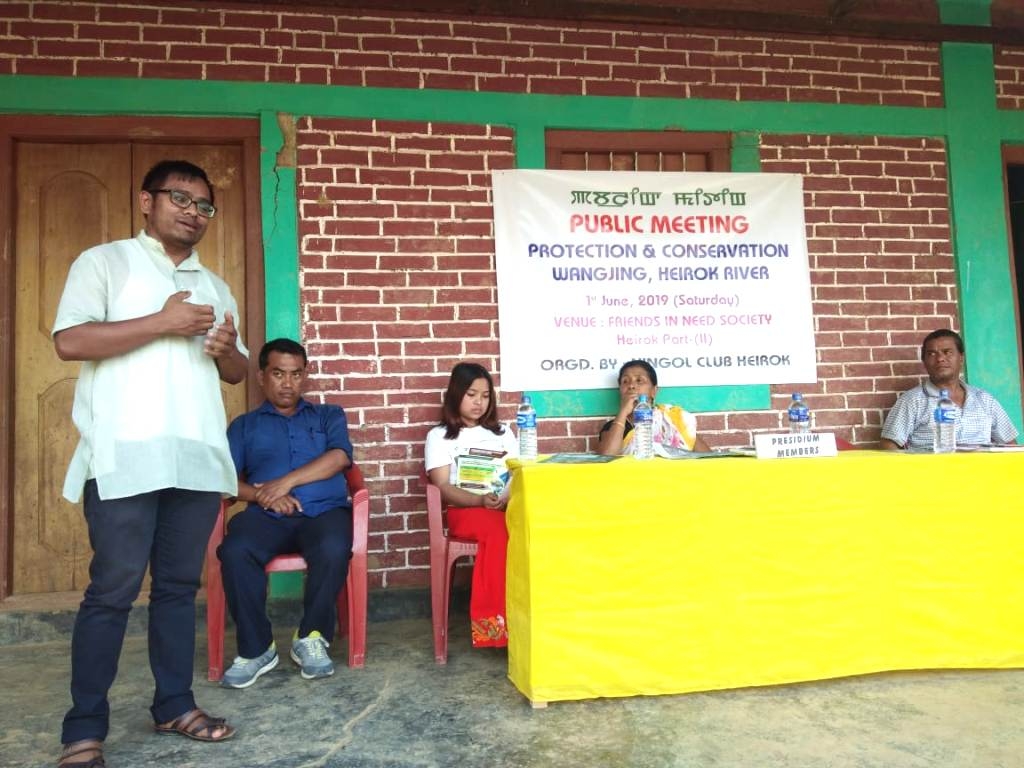 IT News,
Thoubal, June 2,
Worried over the deteriorating conditions of  Wangjing River, due to pollution by plastic waste and the sand mining in the area, Ningol Club Heirok of Thoubal district organised a public meeting at the auditorium of the Friends in Need Society located at Heirok Champra Thong.
The public meeting was attended by Rabi Takhellambam , President Wild Life and Biodiversity Conservation Committee (WBCC) Manipur, Khungdongbam Sophia, Secretary General, Ningol Club Heirok, M Gambhini Devi, Secretary, Heirok Development Meira Paibi and Saikhom Ibopishak , President , Youth Development Club Thong Wangma as dignitaries on the dais.
Suresh Kumar of the Central Institute of Plastic Engineering and Technology (CIPET) attended as resource person.
Speakers on the occasion expressed strong apprehension about the fate of Wangjing River due to the gradual rise of pollution by plastic waste. Drying up of the river bed due to massive sand mining at many parts of the River bed were also highlighted.
Speakers' concern about those sand miners who live on hand to mouth also deliberated on the need for arranging alternative livelihood for them.
Resource person of the public meet, Suresh Kumar elaborated about recycling of plastic waste. He also stressed on public understanding about the need for protection of forest at Hill area which is the encasement area of the Rivers.
"Massive deforestation that is taking place in the river encasement area is the root for drying up of the River", Rabi Takhellambam said while speaking on the occasion.
The public meeting also decided to organise a district level meeting at the earliest possible time to chart out programme for preservation of the River.
The public meeting was attended by various local leaders of Heirok area.