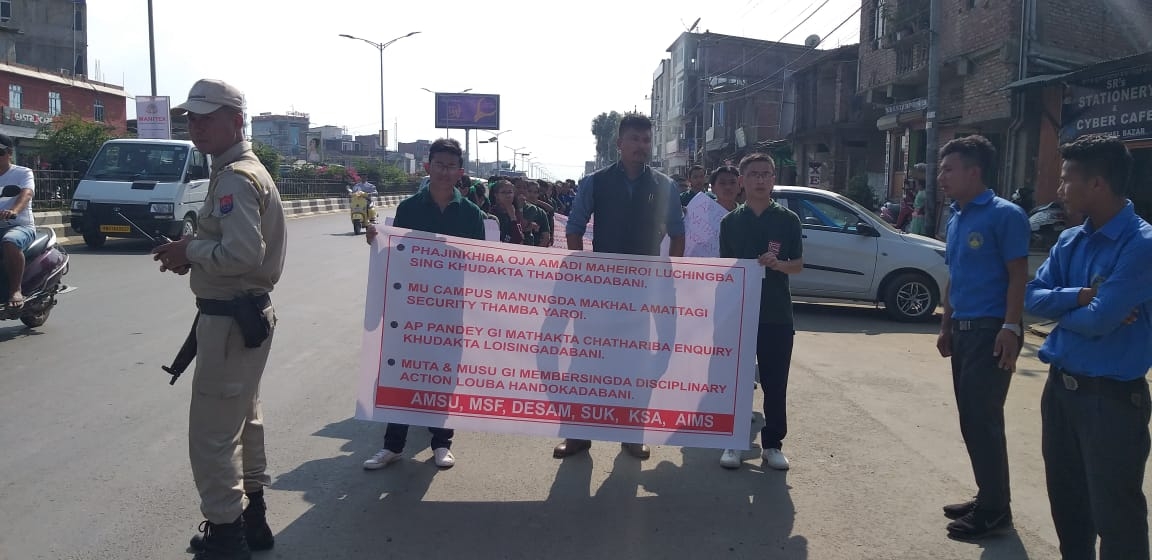 IT News
Imphal, Oct 3,
Assurances to release the arrested faculties and students of Manipur University, during the last dialogue held at Chief Minister's officer room in the presence of some of the media persons, the 6 faculty members including the Registrar in charge Prof. Dorendro and Asst. proctor along with some of the students are still in judicial custody.
Despite the fact that the FIR report was a serious one with criminal activism, it is surprising on why the police had not remanded them in police custody, said a human rights activist while talking to this reporter. He further added that the charges leveled against them are serious but why they are being sent directly to judicial custody instead of requesting remand in police custody. Something fishy seems to be going on since the Sept 20 midnight crackdown of Manipur University.
Report also stated that the alleged Pro VC Prof. Yugindro had also assured the students of Manipur University who were undergoing fast protest in front of the hostel to withdraw the complaint he made to the police. Following the assurance of Prof. Y Yugindro the students had suspended the agitation as per report.
Meanwhile a press statement of the Manipur University Students' Union vehemently condemn the hunting of the student leaders and stated that there is no reason to believe in the present government as there is always lack of sincerity on their side.
Students' bodies comprising of AMSU, MSF, DESAM, SUK, KSA and AIMS continue to stage protest demanding release of the faculty members and students. The student body also demanded withdrawal of the security force from  Manipur University Complex.
It may be mention that the Chief Minister had met members of MUTA day before yesterday in presence of some of senior journalists as mediator. Conditions arrived during the meeting could not known but as per report appeared at some of the media, the Chief Minister had assured to stop hunting the students and the teachers. He also reportedly assured to withdraw the FIR by convincing Prof. Yugindro.
However, as per a Facebook post by one Erendro Leichombam, who was arrested for supporting the cause of the MU wrote that while meeting with the faculty members of the Manipur University, they have stated that they don't care whether they stay 6 days, or 6 months or even 6 years for justice.