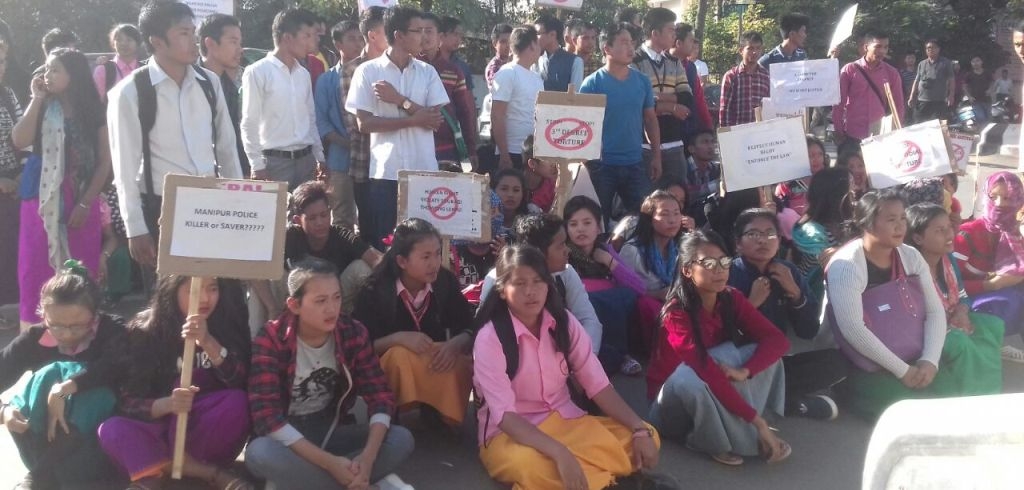 Imphal, Nov 12: Large number of DESAM volunteers today storms to the Chief Minister's Bungalow demanding immediate action against those police personnel who were involved in the brutal assault of 5 students volunteers on October 29 at Singjamei Police Station.
The student's volunteers of DESAM gathered at its office located at Keishampat and started the march to the Chief Minister's Bungalow at around 1.30 pm today. Surprisingly the volunteers instead of marching started running towards the bungalow shouting slogans to deliver justice to the five students who are assaulted in custody.
President of the Students' group Moirangthem Angamba was among those injured in the custodial torture of that day. He was hospitalised at Raj Medicity after the brutal assault inside the custody.
Police who were on duty were taken by surprise by the move of the DESAM volunteers. They were left helpless as the large number of students volunteers came running till the Chief Minister Bungalow and sit in front of the Chief Minister Official Bungalow. As the police team present there find hard to control the situation additional police team were rushed and later the students were driven out till Nupi Lal Memorial complex. The police team however allowed 3 representatives of the students' body to meet the Chief Minister. The 3 representatives are A Anand , Vice President DESAM, Islauddin, Advisor DESAM and N Edison, General Secretary DESAM. Till the filing of this report the 3 students volunteers were still inside the CM bungalow.
Speaking to reporters before meeting the Chief Minister, N Edison , general Secretary of DESAM said that they have been demanding punishment of those police personnel involved in the brutal assault of their 5 colleagues inside the police station.
He said the volunteers of DESAM have been staging various forms of protest demanding the same since the last few days. Even the Home Minister Gaikhangam had also assured to investigate over the matter so that those found could be punished.
Edison said that they are not ready to accept the the proposal of the Home Minister and there will be no turning back to the protest until justice is delivered to the students.