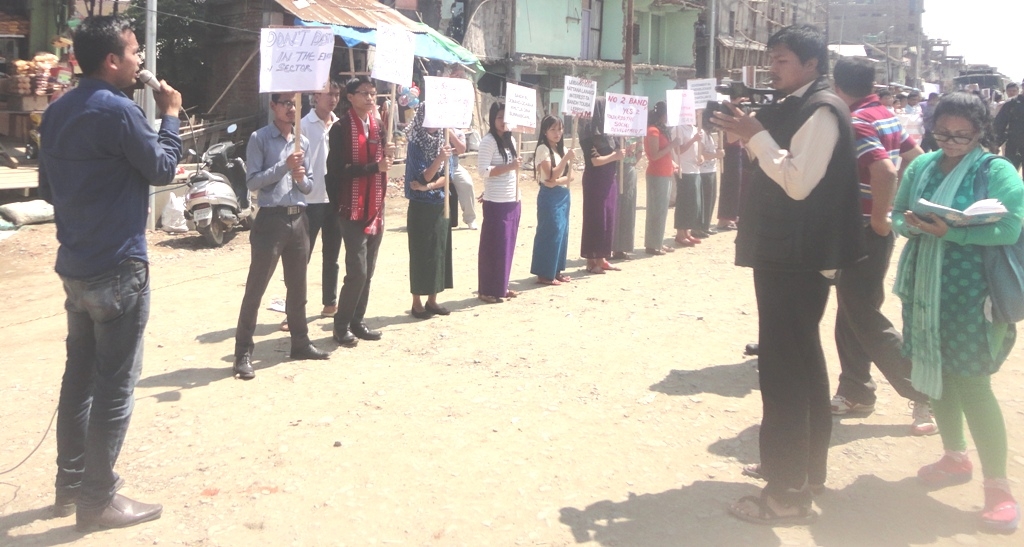 Volunteers of Democratic Students' Alliance of Manipur (DESAM) today form human chain from Keishampat Junction towards Tiddim road and protested against the frequent bandh and Blockade called by various organisations in the state. The volunteers formed the human chain from around 12.30 noon till 1.00 pm holding placards denouncing the frequent bandhs and blockade which affects the academic atmosphere of the students.
"Due to bandh and blockade called by various organisations to meet their demands academic atmosphere of students has been greatly disturbed", said Moirangthem Angamba, President of DESAM. He said hat schools and colleges in the state has to remain close most of the times due he frequent bandhs and blockades. Out of the 180 days required for classes in a year almost all schools and colleges are doing only 120 to 130 days classes due to the disturbances, he added.
The leader of the students' body also decried the government inaction to the bandh called by different civil society organisations. He said there is a Supreme Court verdict to take up immediate punishment to all those who called bandh or blockade affecting normal lives of the people. He appealed the state government to comply with the Supreme Court verdict. The student body further said that they will not tolerate to the bandh called affecting the academic atmosphere of the students and also appealed the people of the state to co-operate students' organisation.