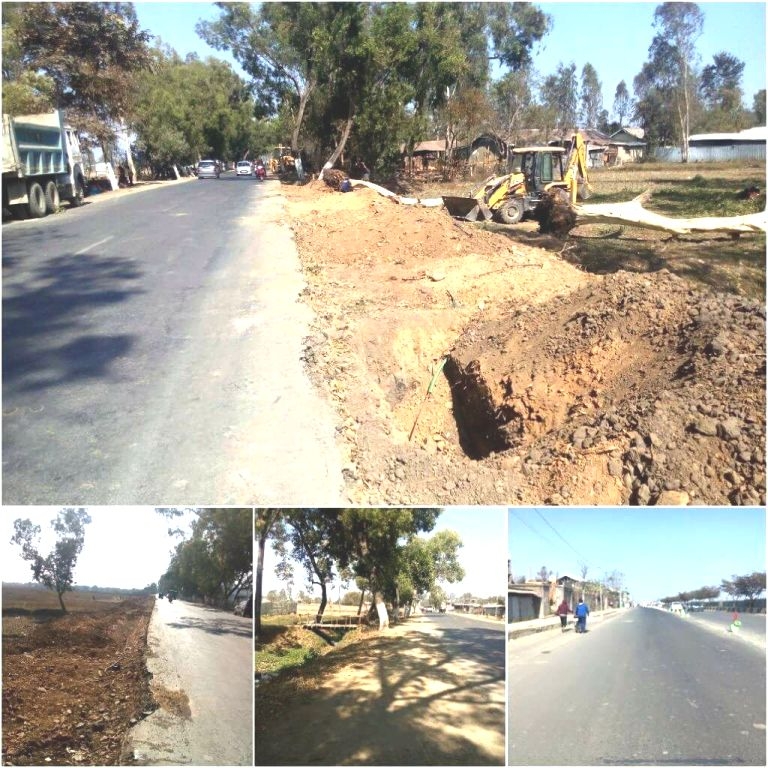 Imphal, Feb 18: When the whole world is worrying about climate change, when people around the globe started showing concerns for protection of trees and environment, fully grown trees on both side of Tiddim road have been cut down for widening of the road.
Department of Bishnupur Forest Division, of the state Forest department in an auction notice published at a newspaper had notified that 1634 numbers of standing trees of different species on both sides of Tiddim road (NH-150) between Utlou to Ningthoukhong and Ningthoukhong Canal to Torbung shall be cut down for road widening works to be taken up by the state PWD.  The auction notice was published on January 16, 2018. As per information of the DFO Bishnupur, it is learnt that even as the notice for auction has been issued a clearance is yet to be received from concern authority.
The trees being cut down today comes under the jurisdiction Central Forest division and the DFO said related documents and permission for the purpose might have been with the Central Forest Division authority. When Imphal Times tried to contact PCCF Kereilhouvi Angami through mobile phone and other means he was not available due to holiday. The cell phone number of the PCCF provided at the official diary of DIPR is also not working. A retired Forest department officer said until January, no clearance for cutting of the trees had been issued.
Another government source said that cutting down of the trees have been started as they have received clearance from the concern authority. However, when asked to provide the clearance from Forest and Environment none are ready to provide it to Imphal Times.
Urbanization and development are an inevitable part of living today. Road widening and building of flyovers has to happen in every city, but, this comes at the cost of losing green cover. Though transplantation and translocation of trees is an age-old activity the world across, it is rarely looked to as a solution before a tree is brought down.
With the works of cutting the trees begins greenery on the road will be only in memory.
So far, no measures for plantation of trees (which will take another 15 to 20 years to grow) have not been taken up. The Tiddim road (NH-150) once a pride of the state with trees of both sides now will be another similar road runs in the middle of desert.