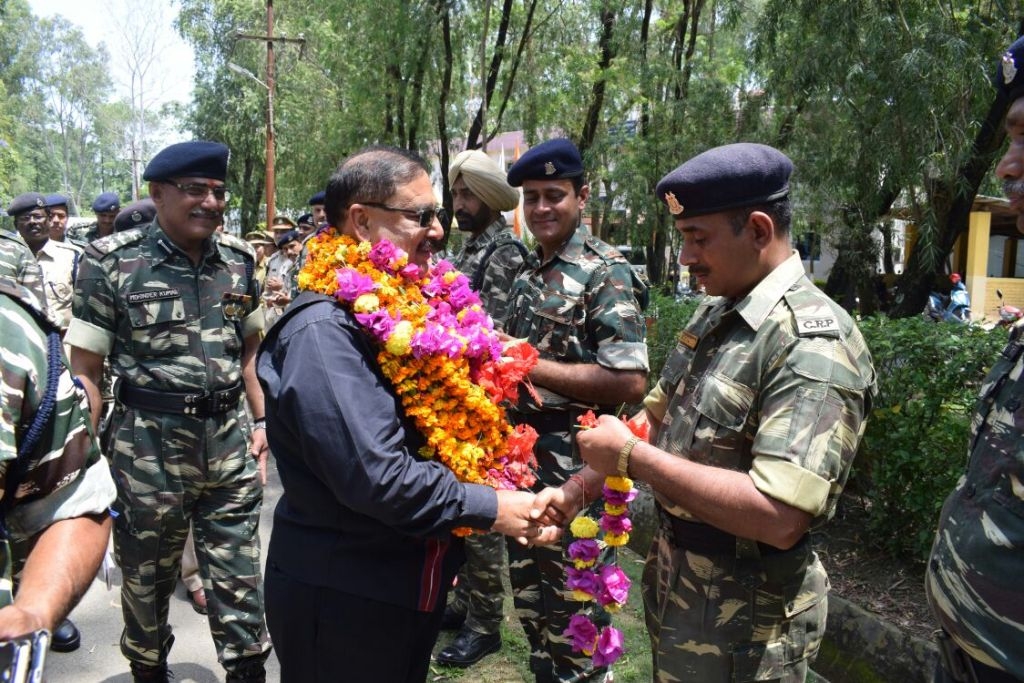 Imphal, April 25,
A farewell function was organized at CRPF camp Langjing today to bid adieu to Vikram Sahgal, IGP CRPF who is proceeding on transfer to Delhi for his further assignment at CRPF Headquarters.
The function was attended by Rajesh Kumar, IPS, the new IGP, Manipur & Nagaland Sector, CRPF, DIGs, Commanding Officers of Manipur based CRPF units, officers and men. During his successful three years tenure in Manipur, Vikram Sahgal played an instrumental role in tackling longdrawn economic blockade on National Highway-2 and successful conduct of a historic free and fair and incident free assembly elections in the states of Manipur as well as Nagaland. He worked in close tandem with state government and Manipur police to provide effective and dynamic support to ensure peaceful law and order situation in the state which has been appreciated across the board. He has always patronized the CRPF institutions to work for social cause. He ensured construction of Toilets and bath facilities along National Highway-2, 37 and 150 in the remote districts of the state for the convenience of the transients. They have been inaugurated befittingly by the  Governor and Chief Minister of Manipur. He had also extended assistance to various sections of the society through several civic action program especially at the Old Age Home Mongsangei and all Manipur Mentally handicapped children welfare organization Mongsangei.
His devotion, dedication and hard work have been widely acknowledged which is evident from the commendations and accolades conferred on him not only from CRPF and State administration but also from the Election Commission of India. The function was followed by lunch at Officers' Mess in his honor.