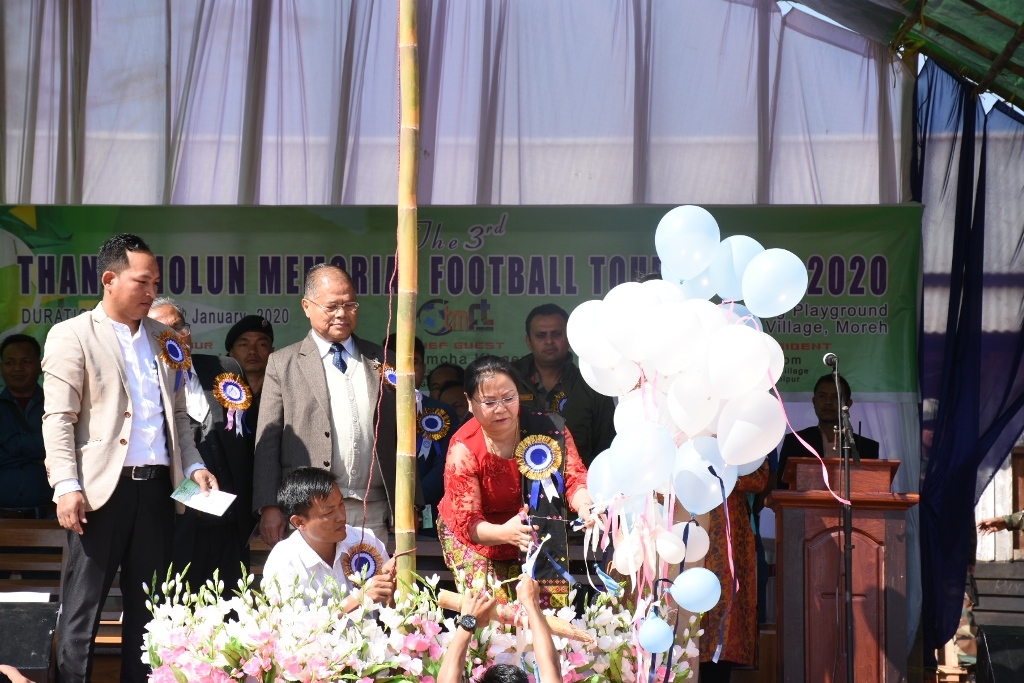 IT News
Moreh, Jan 16
Social Welfare and Cooperation Minister Nemcha Kipgen stated that cooperation, unity and support of every individual are needed to build a good, harmonious and prosperous society. This was expressed by the Minister while addressing the gatherings as Chief Guest during the inaugural function of the 3rd Thangkholun Memorial Football Tournament (TMFT), 2020 held at Jangmunthang Playground, Sahei Village, Moreh.
She further said that the government is working tirelessly towards overall development of the state. She also said that new roads are constructed and infrastructures are established at the same time in hills and valley. On this note, Minister Nemcha highlighted that through cooperation department, there are various schemes that can be implemented to improve the economic condition of our people like engaging themselves in handloom and handicrafts, poultry, piggery, amongst others through registered cooperative societies. She ardently appeal the masses not to indulge themselves in any forms of illegal activities, instead to avail various government schemes and projects to improve their living conditions.
On the inaugural occasion, Nemcha Kipgen also lauded the TMFT Committee for organising such football tournament in the remote corners of our state as such platform will bring the focus of the youths towards shaping themselves to be someone who will bring laurels to their community and to the country, at large. Such sporting event will also curb the problem of drug menace which is a major concerns for many youths and Minister stated that sports shapes the youths towards healthy and discipline lifestyle.
While citing the example of famous sporting personality like Mary Kom, Minister Nemcha expressed that like education, sports can also uplifts the living standards of a person if their focus and skills towards particular sports are coupled with hardwork, dedication, good discipline and a healthy diet. Through one's talents and successful sporting career, one does not represents themselves but their entire society, state or country will be well known by the whole world, she asserted.
Chairman, Hill Area Committee (HAC), Government of Manipur, T. Thangjalam Haokip and Chief of S. Khudengthabi Village, Tengnoupal District, Manipur, Ch. Pacho Kom graced the occasion as Guest of Honour and President respectively.  Deputy Commissioner, Tengnoupal District, Manipur, M. Rajkumar and Superintendent of Police, Tengnoupal District, Manipur, Vikramjit Singh also graced the function as Special Guests.