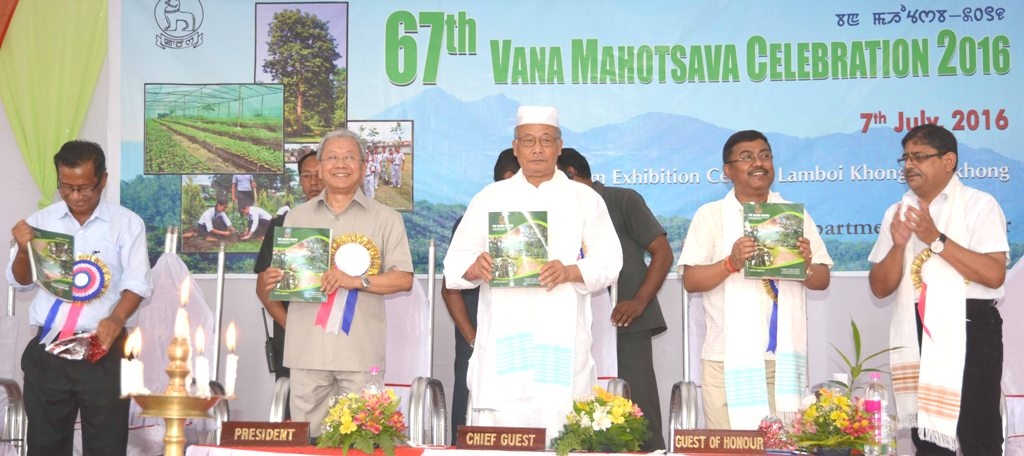 67th Vanmohatsava held with the plantation of saplings
Imphal, July 7:  As in other parts of the country 67th Vanamohatsava, 2016 was celebrated today at Trade cum permanent Exhibition Centre, Lamboikhongnangkhong with the planting of saplings in the campus of the Centre.
Chief Minister  O. Ibobi Singh while addressing the gathering as the Chief Guest appealed for sutainable utilization of natural resources. He continued that the planting of a seedling today is a beginning, caring them to their maturity will be the path and sustainable utilization of the resources will be the  ultimate goal ours in the step towards development hand in hand with conservation.(Full Text of the CM's speech enclosed)
Deputy CM  Gaikhangam who presided over the function said that in Manipur conservation of our forest will be more successful than planting of saplings haphazardly. He also said that while planting trees we should encourage planting of indigenous species and not necessarily depend on the exogenous varieties.
A book entitled "A book on Sacred Groves of Manipur" was also released in the function by the Chief Guest and seedlings were presented to the dignitaries on the dais and also distributed to the school children. Besides, Awards/Citations were also distributed to the officials of Forest Dept. for their     outstanding duties
Prior to this, Chief Minister, Dy. CM, Minister Comm.& Industries and other Guests of Honour planted trees in the Campus of the Trade Centre.   Commerce and Industries Minister  Govindas Konthoujam, Chief Secretary  O. Nabakishore Singh, Additional Chief Secretary  Sambhu singh and Principal Chief Conservator of Forest  P. N. Prasad were the Guest of honours.