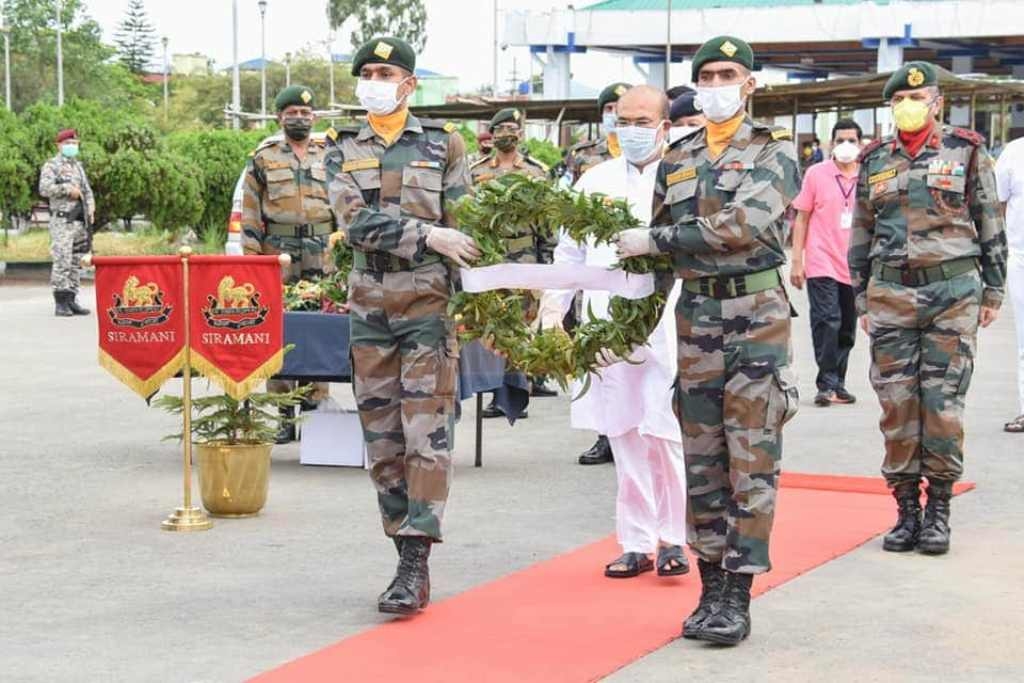 IT News
Imphal, July 31
Chief Minister N. Biren Singh today paid last respects to the three Assam Rifles soldiers, who were martyred in a militant attack at Khongtal village in Chandel District on July 29. He attended a wreath laying ceremony organised in their honour at Bir Tikendrajit International Airport.
Speaking to media persons, the Chief Minister said that there is no place for violence in a democratic country like India. Strongly condemning the incident, the Chief Minister asserted that the Government would not remain as a silent spectator, and the perpetrators would be definitely hunted down.
N. Biren also appealed to the armed groups to shun hostilities and come out for a political solution. Stating that the State Government would provide suitable assistance to the families of the martyred Central forces personnel belonging to Manipur, the Chief Minister said that the matter would be put up in the State Cabinet for discussion.
Responding to a query regarding casualties of COVID-19 patients, the Chief Minister said that all the persons, who had died so far had pre-existing ailments. As such, it was hard to save their lives, he informed. However, the Government has been trying its best to save every single life, the Chief Minister stated.
Earlier, N. Biren Singh led others in laying wreaths and paying last respects to the deceased Assam Rifles personnel. Khurai AC MLA Shri L. Sushindro, DGP Shri L.M. Khaute, other high ranking civil, military and police officers and family members also attended the ceremony.
Later, the Chief Minister met the family members of Ratan Salam, who was one of the three Assam Rifles slain soldiers, and expressed his deep condolences. Sharing their grief, the Chief Minister said that attaining martyrdom for the country is like entering heaven alive.