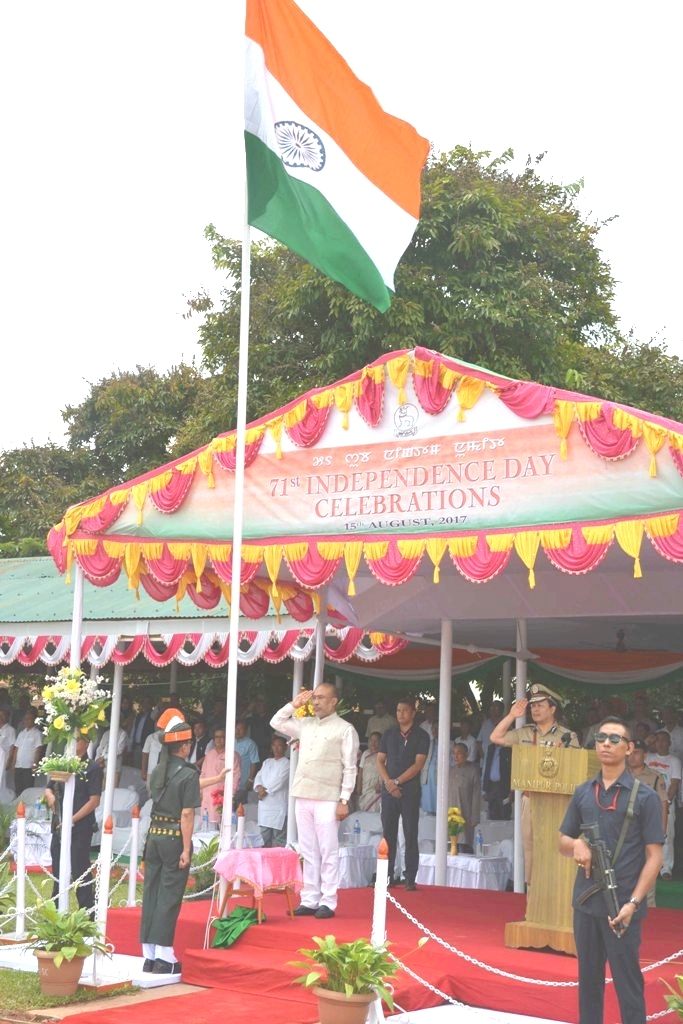 Imphal, Aug 16: As in other parts of the country, the 71st Independence Day of India was celebrated in the State on August 15.
The State level celebration was held at 1st Battalion Manipur Rifles ground with Chief Minister N. Biren Singh as the chief guest.
The Chief Minister hoisted the National tricolour amid playing of National anthem by various band contingents.
Speaking at the occasion,  N. Biren observed that people need to march forward together with an objective to achieve progress and development of the State by forgetting all the differences and past mistakes.
He urged all concerned to resolve the issues through talks if they have any dissatisfaction with the initiatives being taken up by the present Government.
Celebration of the country's Independence Day and paying homage to the martyrs and freedom fighters, who gifted freedom to the current generation, would be meaningful and bear fruit only when people concentrate on accomplishing their tasks and objectives with a strong sense of patriotism by forgetting all the differences.
He also appealed to the public to put in collective effort to make Manipur a peaceful and strong State having egalitarian development.
Though Manipur had also achieved many milestones of development being a part of the vast and strong India in the past 70 years, the State still needs to work hard to enhance the State's economy and improve connectivity infrastructures, communication  and  conditions of children and women etc.
Mentioning the achievements of the newly formed BJP-led coalition Government, the Chief Minister said that the Government had successfully resolved UNC's economic blockade and the stir of JAC Against Anti-Tribal Bills within a short period of time.
He also said that the Government has a firm commitment to bring equal development in all parts of the State to regain emotional integrity between hill and valley.
Admitting that the current financial health of the State is not that good, the Chief Minister informed the gathering that the State Government had started taking up necessary measures to maintain financial prudence and improve resource mobilisation.
Effective implementation of Goods and Services Tax (GST) is an important step towards this end, he added.
Earlier, the Chief Minister took salute from 43 march-past contingents of BSF, CRPF, Assam Police, civil police, India Reserve Battalion, Manipur Fire Service, Home Guards and VDF personnel, NCC Cadets, Government Department employees and college and school students.
 Commandant of 3rd India Reserve Battalion, Shri Thokchom Vikramjit Singh, MPS was the parade commander.
Eleven band platoons of different security forces, Home Guards and Sainik School also took part in the march past.
Chief Minister N. Biren later decorated two police officers with President's Police Medal for Distinguished Service and presented Police Medal for Meritorious Service to 20 personnel.
Recipients of the President's Police Medal for Distinguished Service were A Ghanashyam Sharma, MPS (Dy. SP of Imphal West) and Jemadar Bisham Dev Thakur of MPTC, Pangei while the recipients of Police Medal for Meritorious Service were H. Gyaneshwar, MPS (Dy. CO of 7th MR), Inspector T Sanatomba Singh (CID SB), Inspector Kh. Shashi Kumar Singh (CID SB), Inspector O. Jibonchandra Singh (CID Security), Inspector Palmei Shantikumar Kabui (CID Security), Inspector A.S Masongam Shimray (Senapti), Subedar T.S Chamna Anal (8th Bn. Manipur Rifles), Inspector Th. Nilamani Singh (Noney district), Sub-Inspector S. Guni Singh (CID SB), Sub-Inspector Kh. Debananda (CID SB), Jemadar Th. Bharatchandra Singh (1st IRB), Assistant Sub-Inspector N. Dilip Singh (CID SB), Assistant Sub-Inspector O. Achoubi Devi (CID SB), Havildar Y. Manglemjao Singh (MPTC), Havildar Lunkhosei Haokip (2nd MR), Havildar R.K Sarat (2nd MR), Havildar Md. Rahimuddin (2nd MR), Head Constable L. Khamba Singh (Imphal West), Rifleman Mangjathang Haokip (MPTC) and Rifleman Kh. Babudhon (MPTC).
The Chief Minister also presented Police Trophy for Community Service and Police Trophy for Anti-Drug Campaign for the first time from this year at the function.
The award included a trophy, a cash reward of Rs. 20,000 and a Chief Minister's Commendation Certificate.
 The recipients of Police Trophy for Community Service were Shri K. Meghachandra Singh, MPS (SP Thoubal), Inspector Yaikhom Shanta Singh (Imphal East District) and Constable Okram Yaipharenba Meetei (Kakching District) while the winners of Police Trophy for Anti-Drug Campaign were Shri Kabib K, IPS (Imphal East SP), Sub-Inspector H. Koyaingam Maring (Narcotics and Affairs of Border) and Havildar Md. Islamuddin (2nd Battalion Manipur Rifles attached to Bishnupur District).
The Chief Minister also handed over the State Level Swachhata Award, 2017 on Cleanliness and Sanitation at the occasion.
Churachandpur, Imphal West and Thoubal districts were adjudged first, second and third positions in the competition respectively.
Certificate of honour and cash award of Rs 10,000 was also awarded to Shri Wangkheimayum Shanta Singh of Shamurou Bazar for his innovative works of manufacturing various reeling and spinning machines. The award also included a medium term loan of Rs. 5 lakh.
Ministers, MLAs, top civil, police and military officers, Government employees and general public also took part in the celebration.