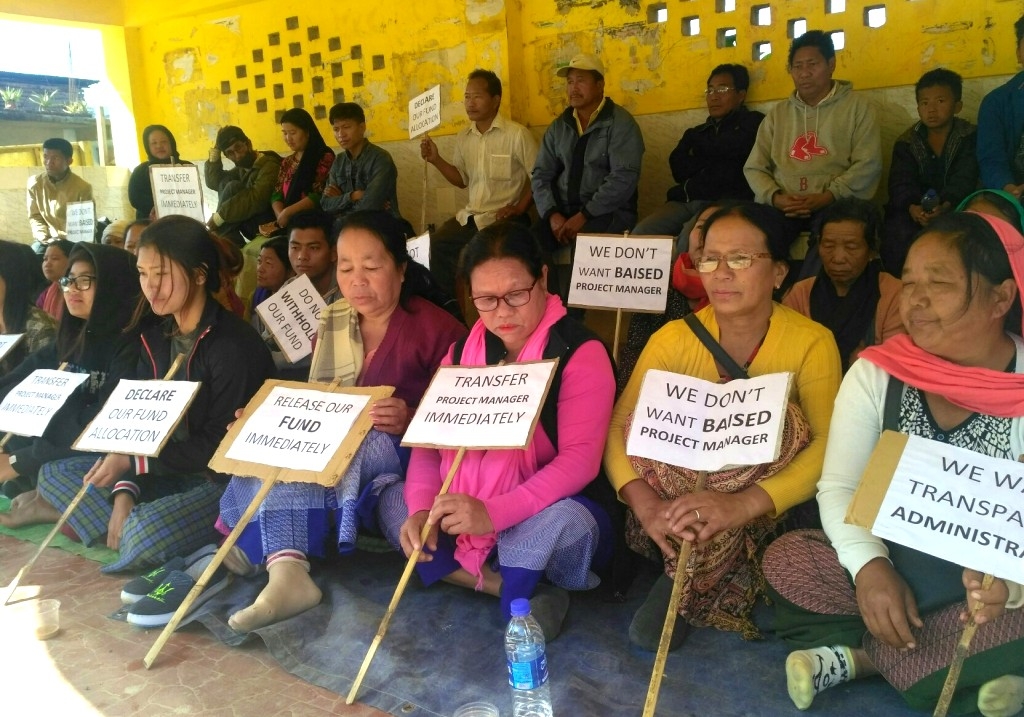 Imphal, Jan 22: Villagers of Kanankhu Village, Chandel district under the aegis of the NaRAM-G, Kanankhu today staged protest demonstration demanding transfer of (North Eastern Region Community Resource Management Project) NERCORMP Project Manager alleging biased administration and mismanagement.
"The Kanankhu NaRM-G, Chandel is taking up sit-in-protest against Mrs. Lily Rose Jajo, Project Manager, NERCORMP, Chandel on account of her biased administration and mismanagement of NERCORMP, Chandel Fund and Kanankhu MaRM-G fund in particular", a statement signed by Kanankhu Village Chief Wl. Fluence Anal and President NaRM-G, Kanankhu Village Tongisn Hmungam Anal said.
"As per financial norms of NERCORMP, funds come to  the NaRM-G account and are implemented by NaRM-G and beneficiaries. However, 100 piggery Fattening Units of NEC scheme was implemented by Project Manager Lily Rose Jaja in contradiction to the implementation norms of NERCORMP", the statement added.
It further stated that when the Panchal and Kanankhu NaRM –Gs opposed implementation by the third party and NERCORMP, the funds were withhold.
It said that Lily Rose Jajo intimated Tongsin Willingson Member, MDC, 12 DCC, that after validation of households the fund for Kanankhu will be deposited to the account and stated that the fund has been deposited to the bank account without depositing it. The statement also alleged Lily of trying to cheat the villagers saying that she will deposit the fund after Christmas, when the matter comes to the public domain, the statement said.
The statement further stated that she withhold the fund for non validation of households in Kanankhu and non implementation of Ringwell in Panchai, but funds for non validated villages were released for other villages where works are not completed. It showed that Lily Rose, as a project manager is baised and discriminatory.
The statement demanded immediate transfer of Project Manager Lily Rose and threaten to launch various form of agitation if fail to do so.