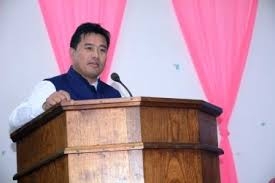 IT News
Imphal, June 18,
Minister Th. Bishwajit, who is believe to the leaders of the dissident BJP MLAs revolting for replacement of Chief Minister N. Biren Singh today said that central leaders of the BJP will come to Manipur and solve the present crisis.
The Minister arrived at Imphal Airport today afternoon. He has been in New Delhi since political crisis erupted in the BJP led coalition government over leadership.
Talking to reporters soon after his arrival at Imphal Airport, Minister Bishwajit said that there is nothing like dissidents among the BJP MLAs. Skipping to reporters queries regarding the change of leadership Bishwajit said that he is not the authority to speak anything about the party matter.
"The Central BJP leaders will come and bring a solution to the present crisis", Bishwajit said.
On a question regarding the removal of PWD and Power from him, Bishwajit said that removal of portfolio is in the prerogative of the Chief Minister. Bishwajit however said that blame on both the department for the present financial crisis is baseless.
On being asked whether he will accept if the portfolios are return to him, Bishwajit said that he will think over it.
The Minister appealed the media fraternity not to mislead the people by playing divide and rule among the BJP MLAs.
"I am not the authority to say anything regarding the indifferences but it will be the central leaders who will decide", Bishwajit said.