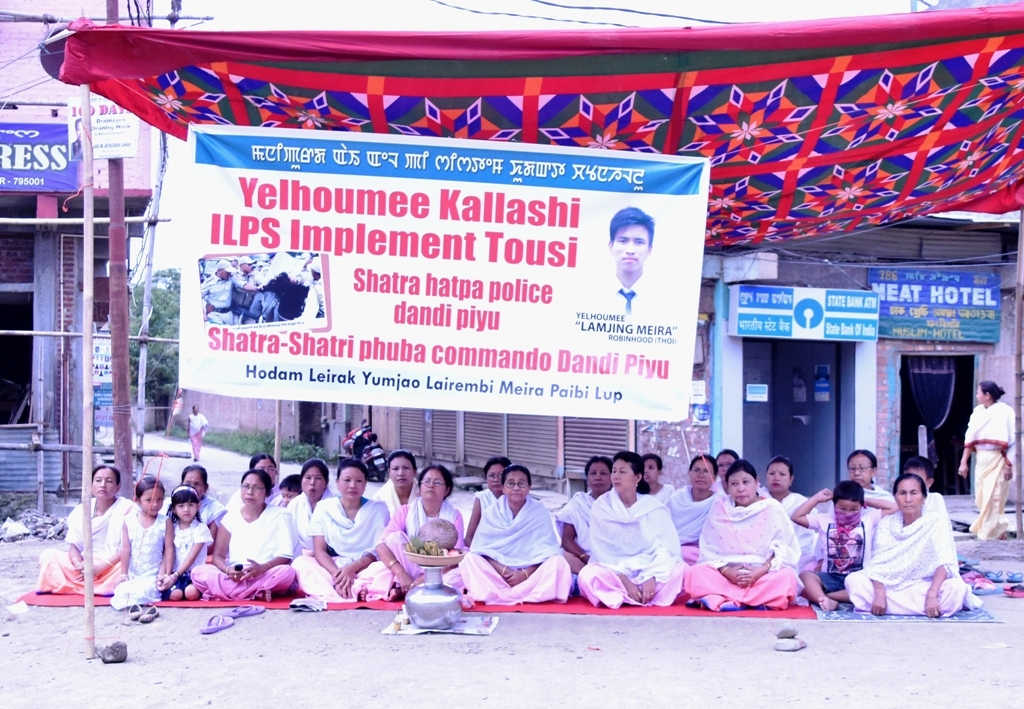 Various local bodies and associations staged sit-in-protest demonstrations and rally today demanding to implement Inner Line Permit System in the state.
Volunteers of Manipur Central Youth Club and local meira paibi members stage a sit-in-protest at the Keishampat Lairembi Community Hall.
Demanding to pass the ILP bill in today's Emergency Seating of the State Assembly Session, women of Hodam Leirak Yumjao Lairembi also staged a sit-in-protest at Hodam Leirak Machin.
Members of All Manipur Disable Welfare also organized a hand puller cycle rally from Naoremthong. The rally marched around the greater Imphal area. Around 100 disable people participated at the rally.
Speaking to media, one of the protestor said that the ever increasing population of non-Manipuris in the state is a looming a serious threat to the indigenous people and it's not time to sit idle.
Sit-in-protest was also staged at Takhellambam Leikai and Kwakeithel by local women bodies.
Local women and vendor women of Keishamthong Keithel has also staged sit-in-protest at Keishamthong Keithel.
Sit-in-protests were also staged at along the AH-1. Members of Lamdaibung Social Welfare Association, locals of Kakwa Asem Leikai, Social Development Organisations, Singjamei Sapam Leikai, Singjamei Keithel, Singjamei Chirom Leikai, Singjamei Chingamkha also staged sit-in-protest around Singjamei  and Kakwa area.
Under the banner of Re-consolidation Campaign on Implementation of Inner Line Permit System in Manipur, women bodies and local clubs organized a public meeting at Thoubal Keithel, Yairipok and Kakching.
A public meeting was held at Khurai Lamlong, Tezpur, Lairikyengbam Leikai, Soibam Leikai , Wahengbam Leikai and other parts of the city.