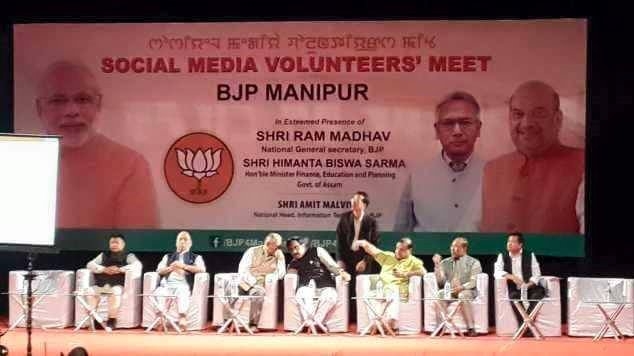 Imphal, Nov 14: Mocking the Okram Ibobi Singh led Congress Government, National General Secretary of the BJP, Ram Madhav today told the Chief Minister O Ibobi Singh and his colleague to pack their bags as the party's victory at Assam in the recent election is going to repeat here in the state of Manipur.
"Assam victory will be repeated in Manipur, it's time for Cong CM Ibobi to pack his bags", Ram Madhav said while speaking to the meeting of the BJP Social Media Volunteers held at MFDC Palace Compound.
Appealing the social media warrior of the BJP to make good use of the medium, Ram Madhav said that the social media warriors of BJP Manipur will ensure Manipur CM Ibobi's misrule is demolished.
The BJP National Secretary also blame the Chief Minister Okram Ibobi as the cause of the rise in unemployment among the youths of the state. He said 25% of the youth are unemployed because one person called Okram Ibobi is employed.
"25% of Manipur is unemployed because one man Ibobi is employed. Make him unemployed in this election", Ram Madhav said while ensuring the state as a corruption free as well as unemployment free state.
He added that Manipur will be another Singapore like state.  
Himanta Biswa Sarma, Minister Finance, Education and Planing Govt. of Assam who also attended the social media meet elaborated on how the people could be contacted to tell the strategy and planning of the BJP in bringing a developed state.
State President of BJP Ksh Bhabananda, Election Committee Convenor Th Chaoba, MLA Joykishan among others attended the social media meet.