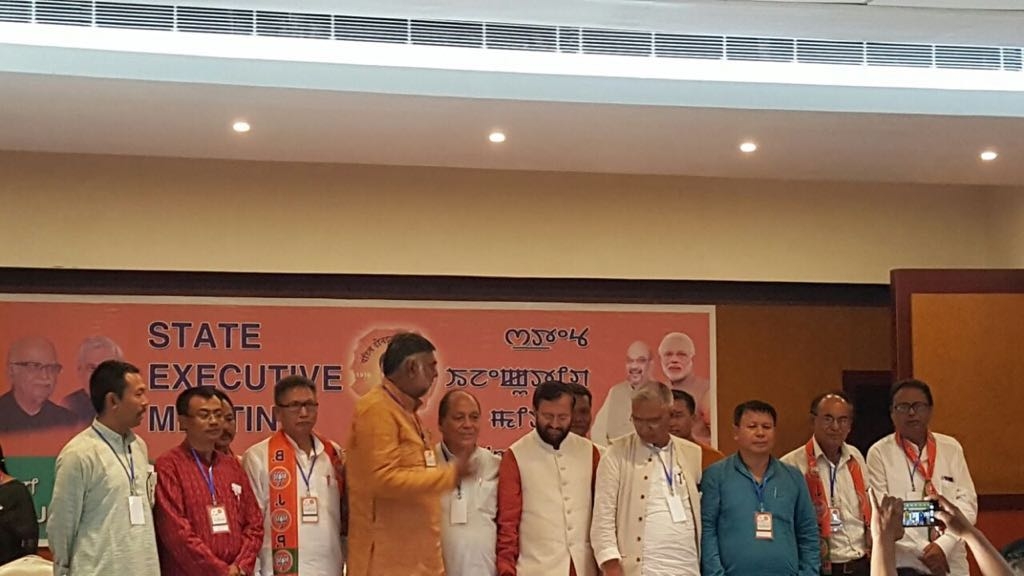 Imphal, Oct 3: The Bharatiya Janata Party (BJP) Manipur Pradesh has unanimously resolved to oust "corrupt" Chief Minister-led Congress government in the state during its state executive meeting held today at Imphal Hotel.
The meeting was attended by Prahlad Singh Patel, State Prabhari of BJP as President and Prakash Javedkar, Union HRD Minister and Election Prabhari of BJP Manipur Pradesh BJP as President and Chief Guest respectively while Th Chaoba Singh, Convenor of state BJP Manipur Election Management Committee; Vice Presidents M Asnikumar Singh and S Premananda Sharma; MLAs Kh Joykishan, and Th Biswajit Singh and others Core Committee members of Pradesh BJP participated as Guests of Honour.
In view of the upcoming State Assembly election, BJP Manipur Pradesh has taken some major steps including directives to all of its above 2000 booth level committees to append "Vote for BJP" at least 200 household at each Mandal. Appending of "Vote of BJP" drive would be continued till October 15 from today October 3, 2016.
It also resolved to bring a good and responsible BJP government in the state by strengthening party workers and exposing misdeeds of the incumbent state government.
At least a full time worker of the party would be appointed at all the 60 mandals across the state, resolved the meeting.
While congratulating the Prime Minister of India, Narendra Modi for his valour act cleansing terrorists along the Indo-Pakistan border by successfully conducting 'surgical strike' few days ago, it also observed that under the abled leadership of the Modi, "India is safer and stronger."
Collectively the meeting endorsed the resolutions taken by the party during its National Executive meeting held in Calicut from 23-25 September, 2016.