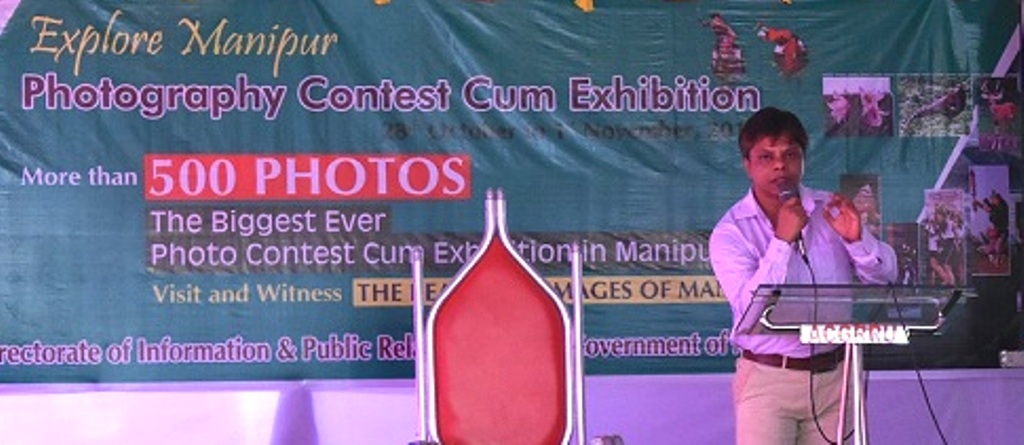 Visitors at Photo contest cum exhibition being organized by the Directorate of Information and Public Relation, Government of Manipur at its office premises at Moirangkhom, Imphal were enthralled by the scenic beauty and elegant life style of Manipur through the lens of photographers of the state.
Around 500 photos taken by around 70 amateur photographers are being displayed at the competition section and over 100 photos captured through the lens of professional photographers like Deputy Director General, Film Division Joshi Joseph, Imphal Free Press Editor, Pradeep Phanjoubam, Lt. Col Ajay Sharma and AMWJU Vice-President, Ratan Luwang and MFIAP, Madhu Sarkar are also exhibited.
"I never know that we have such a rich traditions as well as beautiful place", said Rambo, a visitor after seeing the colourful pictures captured through the lens.
The 3-Day Exhibition cum Photography Workshop organised by Department of Information and Public Relations (DIPR) will continue till October 31, 2015.
Beside organizing the exhibition cum photo contest, a lecture programme on photography and its career was also organized.
On the first they of the workshop, Deputy Director General, Film Division Joshi Joseph gave lecture on Ideas, Images and Idioms. Imphal Free Press Editor, Pradeep Phanjoubam gave lecture on Looking Beyond The Image.
Lt. Col Ajay Sharma today elaborated on Digital Photography and Post Processing. In his lecture Ajay said, "People have been keeping visual records of themselves and the things around them since prehistoric times, recording images that range from carefully drawn hieroglyphics to pictures taken on the surface of the moon.  Each image is an attempt to communicate from one person to another the things we see".
AMWJU Vice President Ratan Luwangcha also talk on the difference of Photographer and Photo Journalism.
An interaction program with the participants and the lecturers was also conducted.