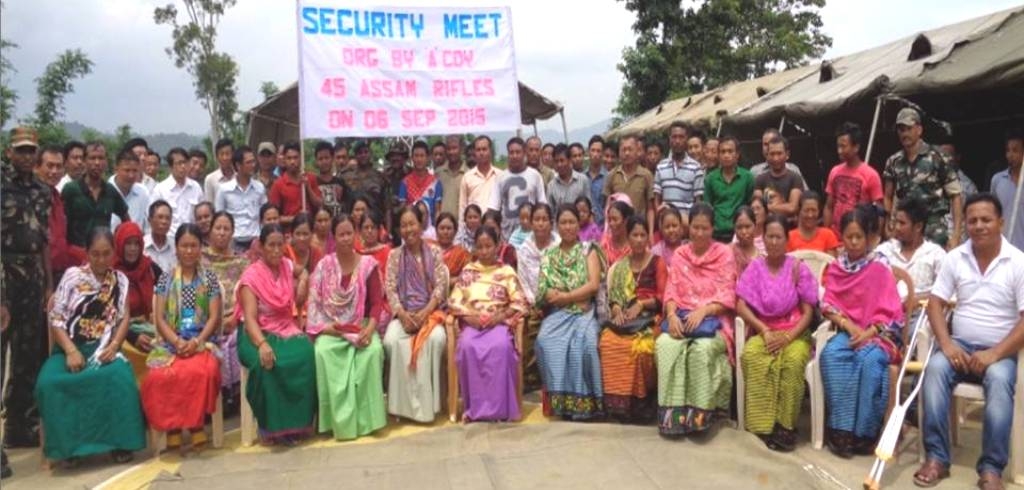 In the wake of the recent Inter-communal clash and prevailing unrest situation in Manipur, 45 Assam Rifles of 9 Sector Assam Rifles under the aegis of HQ IGAR (South) carried out a security meeting with community representatives, village headmen and representatives from Meira Paibis, NGO groups on 06 Sep 2015 and emphasised that a secure environment is essential for collective growth in the state.
The difficulties and turmoil faced by the innocent civilians due to the flash bandhs imposed at odd hours without prior information was also discussed by 45 Assam Rifles. The meeting was attended by about 80 locals from different villages including village headmen and secretaries of Nongren, Lukhokhul, Takhel and Lamlai villages.
It was discussed that a Zimmedari System should be followed wherein the village headmen should be responsible for any untoward incident in their village. Emphasising on the Swachh Bharat Abhiyan initiated nationwide, it was discussed to initiate and maintain cleanliness drive in their respective villages. In the end company commander of the unit emphasised about maintaining good relations between Assam Rifles and local populace, said a release by PRO Cell of IGAR (S).