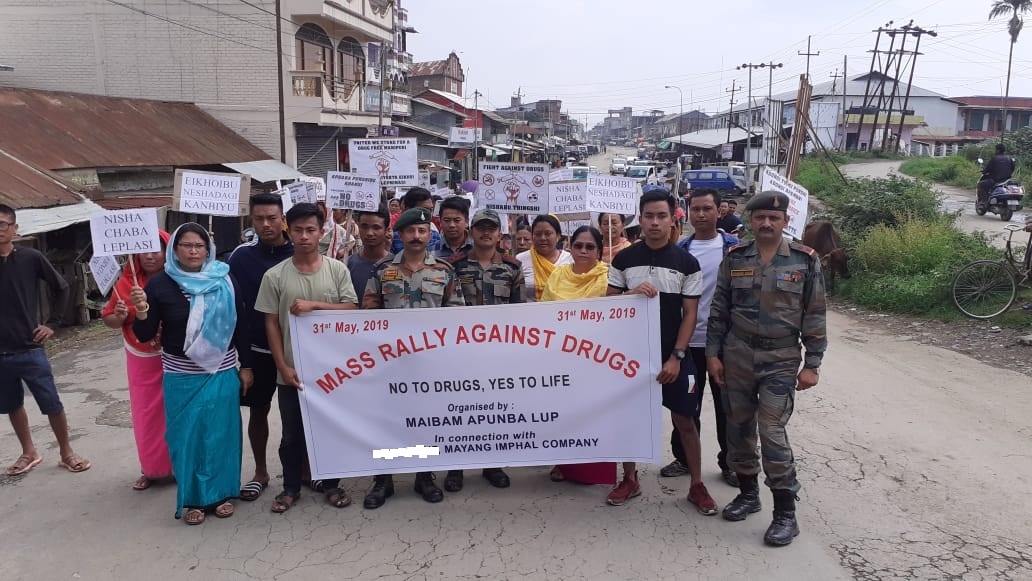 IGAR (South)
Imphal June 1,
Tulihal Battalion of 9 Sector Assam Rifles under the aegis of IGAR (South) conducted an anti-drug campaign for drug free Manipur at Maibam Konjin Social Progress Organisation Office (MKSPO), Imphal West District on Yesterday.               
The drug rally under the theme "UNITED WE STAND TO FIGHT AGAINST DRUGS FOR A DRUG FREE MANIPUR" was organised by Mayang Imphal Company Operating Base (COB) in coordination with volunteers of Maibam Konjin Social Progress Organisation (MKSPO). The campaign was planned in response to the concerns expressed by villagers, parents and meira paibis during the monthly security meet regarding apprehensions of youth of the area falling prey to the drug menace.           
As part of the campaign, an interactive lecture was conducted to generate awareness about the ill effects of drugs and to guide them to lead a healthy life. The lecture gave the audience an insight about harmful effects of drugs on the human body. The lecture was followed by an anti drug peaceful procession march which started off from Maibam Konjin Social Progress Organisation office (MKSPO) and finished at Maibam commmunity hall followed by a public meeting. The procession march witnessed energetic participation by over 300 locals of the area including elders, ladies and children. The campaign was a success in educating the locals on this sensitive issue and various measures to counter the drug menace. The event concluded with tea and refreshments for all the attendees.
The locals expressed profound gratitude to Assam Rifles for organising such awareness campaigns from time to time and appreciated the efforts and commitment of Assam Rifles to the cause of making Manipur a drug free state.