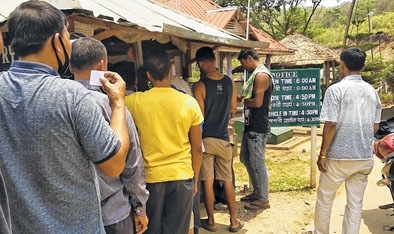 IT News
Imphal, Jan 20
A 2016 batch Indian Police Service (IPS) officer presently posted as SDPO at Yairipok Police Station, identified as Ms. Anupam, who went to Moreh along with her escort party on official duty at the border town Moreh in Tengnoupal district has been reportedly detained and harassed by personnel of 12th Assam Rifles at Khudengthabi Check post.
According to a report, the official vehicle bearing registration number MN01G -6243 at which her team in uniform was travelling was checked and made them registered at 3 different places along the Imphal –Moreh route. On her return from Moreh, the IPS officer along with her escort was stopped at Khudengthabi Check post by D-Company, 12th Assam Rifles. An escort of the IPS officer identified as M. Hemanta, a constable of the Manipur police approached the 12th Assam Rifles and tried to inform them and registered entry of the vehicle. Identification cards were shown and also informed that they are on official duty.
What is surprising is that a personnel of the AR deployed there identified as PK Pandey , besides knowing that the IPS officer was on duty and was returning to Imphal detained them and even threaten to detain till midnight.
As per report this psycho even threatened the IPS officer saying that he will not leave her and her team if the matter is reported to the Director General of Police or the Chief Minister of Manipur. This AR personnel even thrash the vehicle where the IPS officer was sitting.
As per a complaint lodged by the IPS officer over the misconduct of the Assam Rifles personnel at Khudengthabi, the IPS office, Ms. Anupam said that the said Assam Rifle personnel continued to misbehave , humiliate , harass and even assault her and her escort team beside showing their official identity card .
Anupam said that he reported the matter to the Brigadier 26 AR and following that the Major of the D-Company 12th AR rushed the site and intervened. While trying to call the higher official the AR personnel even tried to snatch the mobile phone, Anupam in her report said.
A complaint has been lodged to the Officer in Charge of Tengnoupal district regarding the matter by Ms Anupam (IPS).