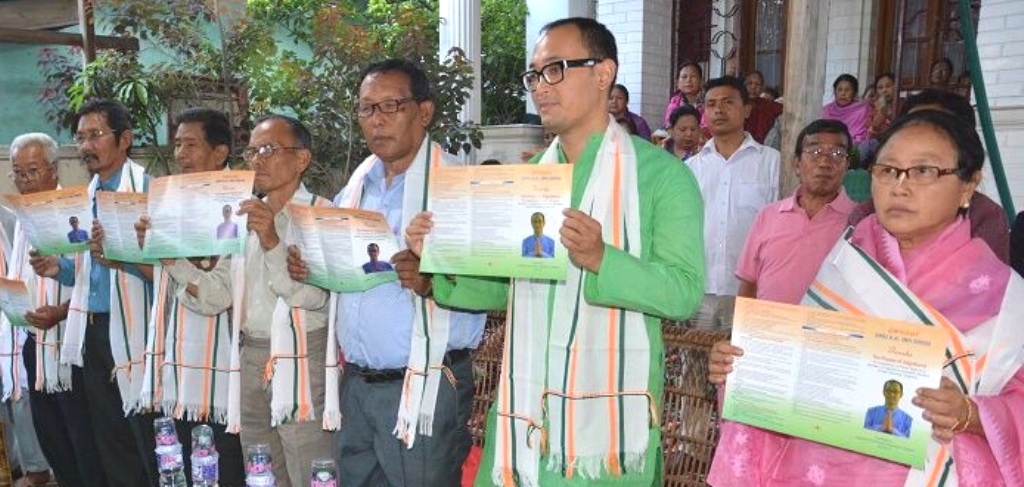 BY: WAHENGBAM RORRKYCHAND
What are the social and economic aspirations of every member of a society? What is it that every right thinking member of a free society expects from their trusted representatives? Don't you want to know what your local MLA have done in the locality? Yes! We all obviously do – and, it is our right to know what they have done for us. In a step towards transparency, one young Manipuri Member of Legislative Assembly Rajkumar Imo Singh of Sagolband Assembly Constituency has typically presented a Progress report on his work, a first for a serving representative of the people in the state.
A third generation member of the Indian National Congress — grandfather (late) RK Birchandra Singh was President of the Manipur Pradesh Congress Committee and father (late) RK Joychandra Singh ruled the state as Chief Minister (4 March 1988- 22 February 1990). His father, who also served as Union Minister, was one of the close aides of former premier Rajiv Gandhi. He represented Indira Gandhi during the Trikha Commission as an Advocate during Emergency.
Imo presented progress reports consecutively for three years since his first one year in office. During an interview at his residence, the MLA told this paper, "Big or small, it is an honest initiative towards transparency; presentation of progress report would enable voters to review the work of their elected leaders. Besides, it would also make possible for people from one corner to check development works taken up in other part of the area of the constituency."
"For the first time in the constituency" the MLA adopted a policy to distribute Public Distribution System (PDS) without outside influences.
 "As I promised before the public during election campaigning, PDS items were distributed in a fair and regular manner. Earlier nepotism always comes in the midst while selecting agents and beneficiaries. Now we have put an end to it with the Sagolband Constituency Progressive Committee (SCPC)," Imo said.
His brainchild Progressive Committee-SCPC- works as an apex body of various ward committees to which residents selected their representatives. The elected members of cluster committee recruits PDS agents and monitor their activities to fulfill the MLA's "fair and transparent" policy.
In a bid to promote sports in a novel manner the football enthusiast MLA initiated a Day and Night Football Tournament for the youths of Sagolband A/C- first of its kind in Manipur. He also successfully made the Sagolband Bijoy Govinda Ground a permanent place for the tourney with required infrastructures.
"The 7-A-Side Men's Open Football Tournament is an extravaganza for Sagolband A/C not just football, where youngsters, parents and supporter come together in support of their local team. With this, youngsters from Sagolband area are enabled to hone their talents while helping them to reach higher levels in the realm. From this year, events for women will also be added in order to add more variety and life to the tournament," Imo commented.
Speaking about his progress, Imo, who successfully merged Manipur State Congress Party (MSCP) to INC with 5 MLAs including himself, informed us that around 85 percent of pipeline connection for water supply has been laid in the constituency.
The MLA got appreciation from the Chief Minister Okram Ibobi Singh for his pioneering initiative towards good governance.