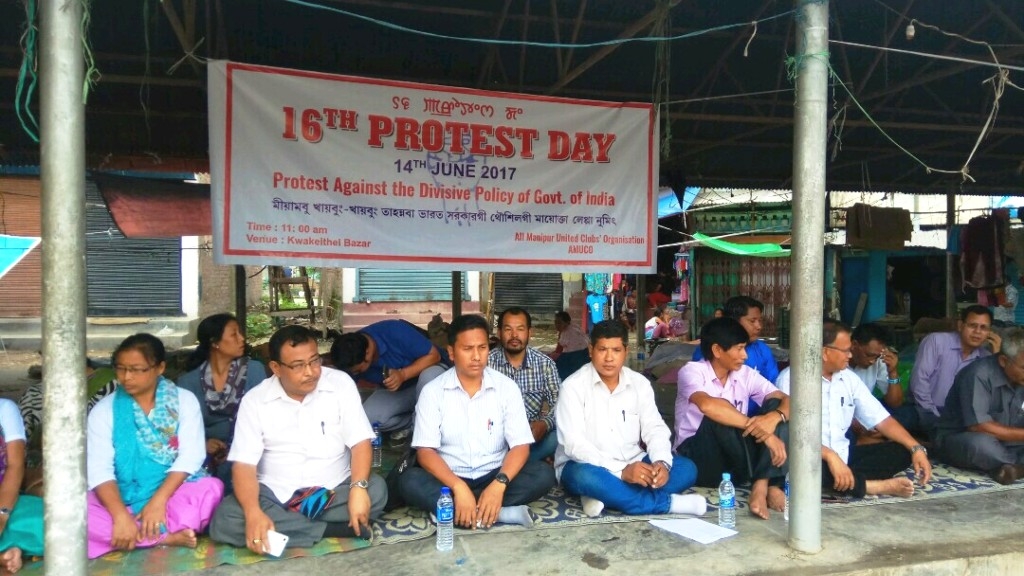 Imphal, June 14: All Manipur United Clubs Organisation (AMUCO) observed the 16th anniversary of Protest Day at a function held at Kwakeithel Bazar today with strong participation from representatives of civil society organizations and general public.
Protest Day was a public movement launched by AMUCO on this day in 2002 to protest and demand the revocation of the Bangkok declaration signed between the government of India and NSCN-IM which extended the purview of the ceasefire with the Naga militant group that was previously confined to the state of Nagaland to an all encompassing 'without territorial limit.'
The landmark protest was the precursor to the historic public uprising against the ceasefire agreement and June 18 firing during which and subsequent related incidents 18 protestors fell to the bullets of law enforcement agencies.
The June 18 firing can also be regarded as a spin-off of the Protest Day which main feature was public demonstrations along the major thoroughfares of Imphal as well as other areas. After its success, AMUCO, in the next round of counteraction to the Bangkok declaration, called a 66 hours agitation on June 15. Public poured out into the streets in tens of thousands to express solidarity to the call for revocation of the agreement. On June 18, 2002 during one such rally hundreds of angry protestors tried to storm government and political offices when security personnel on guard fired at them. After witnessing the blood bath the Government of India ultimately scraped the clause 'without territorial limit' in defining the area of coverage of its ceasefire agreement with NSCN-IM on July 27, 2002.
"Finally, the people of Manipur emerged victorious and an annual observation to mark the incident is being staged without break to highlight the momentous stand against the divisive policy of the Indian government," a leader of AMUCO said during the observation.