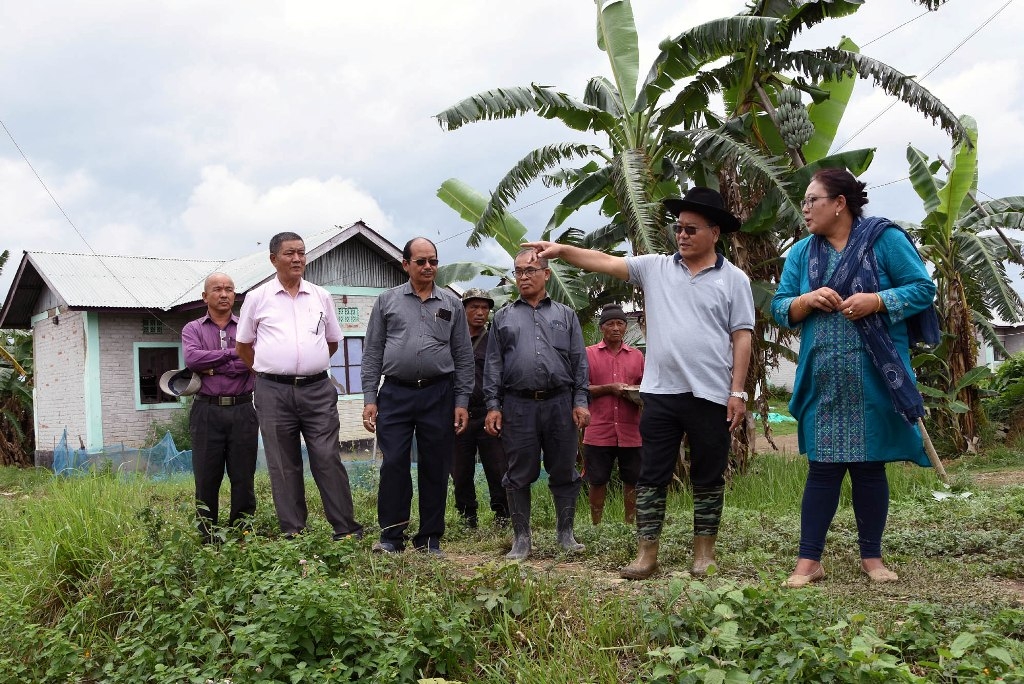 DIPR
Imphal, July 13,
Agriculture, Veterinary & Animal Husbandry Minister V. Hangkhanlian visited Krishi Vigyan Kendra (KVK), Thoubal and introduced the latest 3 new methods of nursery seedlings for Manipur. The three methods used are Wet Method, DAPOG method and Modified, which is prepared by Agriculture Department (KVK) Thoubal.
The Minister also informed that on July 16, 2019, there will be an interaction programme for the farmers from all the districts including the four valley districts of Imphal East, Imphal West, Thoubal and Bishnupur district for finding ways to solve the problems being witnessed by the farmers. He also urged all the farmers to take active participation in the interaction programme.
Addressing the media at the site of Community Nursery seeds demonstration, the Minister said that under the initiative of KVK, Thoubal, three new methods for nursery seedling has been introduced to bring immediate relief to the farmers in situations where there is lack of sufficient irrigation water. The new seedling method can be easily adopted in the State when faced with drought like situation. By using the modified and latest methods like DAPOG and Modified Mat method, a nursery measuring 1.5 hectares of land area has been allocated for the seedling process which will solve problems faced by the farmers of the State. The use of the new method can supplement the requirements of the farmers and the nursery seedlings can be transplanted within 15 days from seeding.
The Minister also informed that there is enough stock of fertilizers for Thoubal District which is distributed to the farmers through District Agriculture Officer (DAO) and staff of Agriculture department, KVK, Thoubal. Farmers who are facing problems in procuring the fertilizers can approach the concern department.
N. Tomba, SMS, Agronomy, Krishi Vigyan Kendra, Thoubal, highlighted on the new methods used in producing various varieties of rice. He stated that a target has been set to transplant the prepared modified nursery seeds of Tampha Phou R-1 and Noren-18, which can be harvested in a short span of 120-125 days. Preparation is underway to transplant the seedlings to paddy fields covering nearly 2.5 hectares within Thoubal area. The new modified system of seeds is popular across the world as the product yield is more and takes lesser time to harvest. KVK, Thoubal is preparing to transplant seedlings which will cover paddy fields of around 5 hectares across the Thoubal district. He appealed to the neighbouring farmers who have limited space for sowing seeds due to water shortage to collect the modified seedlings from the nursery for transplanting in their fields.
The KVK,Thoubal, Agriculture Department Officials and Staff are present in the demonstration of nursery seeding for yesterday.