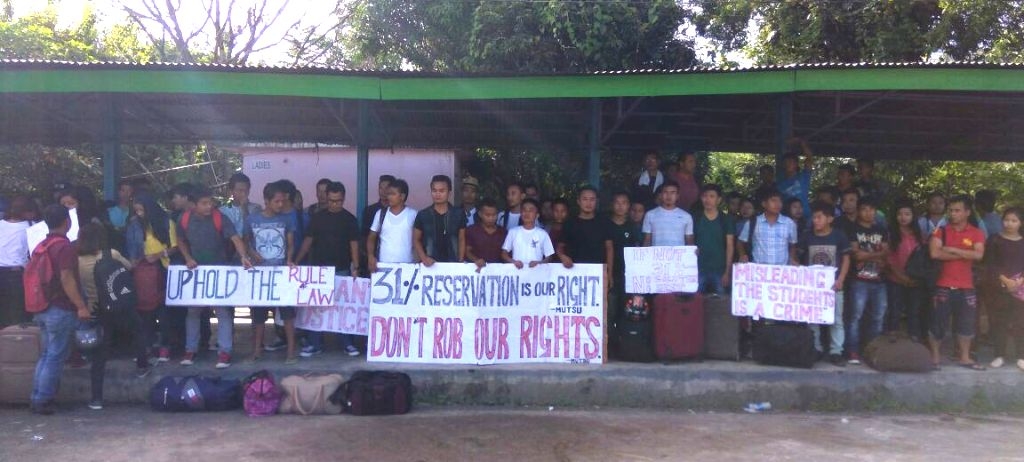 Imphal, Oct 10: A Day after All Tribal Students Union, Manipur has threatened to call indefinite bandh in Hill district if the Manipur University Academic Council fails  to revoke the resolution of Oct 8 meeting on reservation policy within 4 days,  tribal students of Manipur University today packed their belongs and started leaving the hostel today.
Around 100 students of the University, under the aegis of the Manipur University Tribal Students Union today protest the Academic Council's resolution on reservation policy and left the hostel at around 2 pm.
Speaking to the media person at MU campus the spokesperson of MUTSU Kakai Sengsit said that the Academic Council resolution which was taken on  October 8 resolved to follow 2006 Act of parliament which was 7.5% for ST, 15% for SC AND 27 % for OBC and not abide by the amendment act of 2012. The spiteful intention of the authority is very clear and distinct to forcibly implement of 7.5 % for ST which has pollution of 42% of the state and 15 percent for SC which has population of 5 percent of the state.
He further added that MUTSU can no longer accept the injustice meted toward the STs students. He said with the discrimination and suppression of tribal rights maliciously by university authority, communal harmony in the campus will be distorted and there will be another crisis in the state.
He added that by considering injustice meted toward the STs, MUTSU has compelled to go extreme step of "Mass Exodus" from Manipur University. A memorandum was also submitted to VC demanding revocation of the resolution of academic council meeting.
He further said that they will stay away from the university until the academic council revoke to resolution which is in favour of SCs.