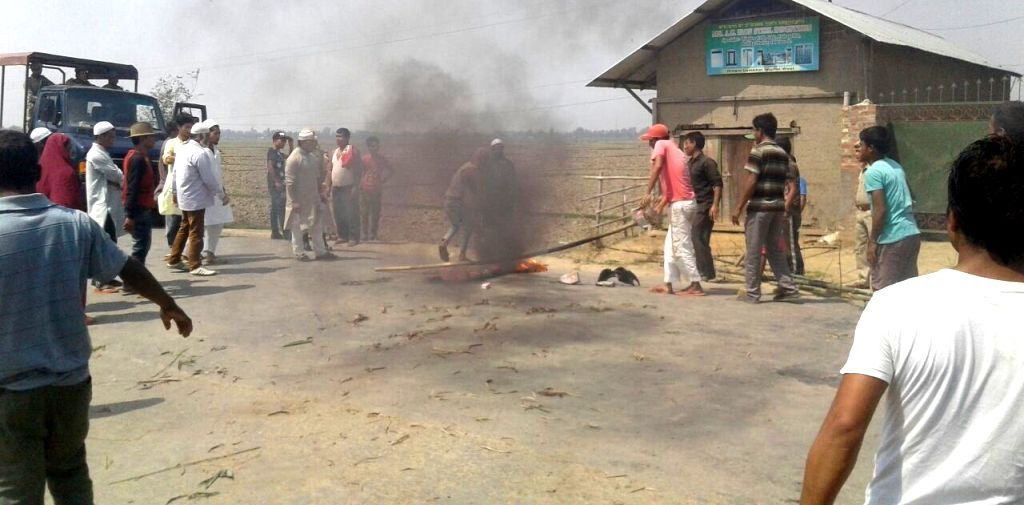 Imphal, April 11: At least six people were reported injured in deadly confrontation between group of bandh supporters and another group of people opposing the bandh. The incident happen at around 10 am today morning after the bandh supporter vandalized a passenger vehicle and later pour SK oil to another private car at Mayang Imphal Bengoon area in Imphal West district. A group of person who were confused on when the bandh started arguing the bandh supporters and later a heated confrontation took place. Following the confrontation driven by sentiments the bandh supporters allegedly played communal game and some with license guns started firing in the air and starting vandalizing infrastructures standing on their way. As the mob turn hostile a house located a Mayang Imphal Bengoon area was set ablaze. The group opposing the vandalizing of vehicles and houses too started attacking the agitators by raining stones and pebbles. In return some from among the bandh supporters fired their license gun towards the bandh supporters injuring at least 4 of them seriously. They are all undergoing treatment at Shija Hospital and Research Center Langol. Police post at Mayang Imphal too tried to calm the situation but as the crowd was outnumbered the clash between the two group lasted for over 2 hours. It was only after additional team led by Additional SP Imphal West Th Bikramjit reached the spot that the situation was brought under control.
During the course of confrontation at least 7 other houses were also gutted. But it was not sure on how the houses were burnt.
Among those injured condition of Thongam Birjit (23) s/o Th Deven Mayang Imphal Thongkhong, Khumukcham Ashajit (34) s/o Kh. Kulabidu, Mayang Imphal Konchak and Heishnam Ranjit (31) son of Krishnamohon are stated to be out of danger. They are presently undergoing treatment at Shija Hospital after being hit by Barrel bullet.
The bandh was called in protest against the  controversial death of Md Farooque Khan (18) s/o late Md Baderuddin and Md Saddam (14) s/o Md Basiruddin of Lilong Turel Ahanbi Kaleikhong  by a JAC formed in the connection from midnight yesterday till 6 pm today. Both succumbed to their injury after a mob lynch after they were found lifting a bicycle.