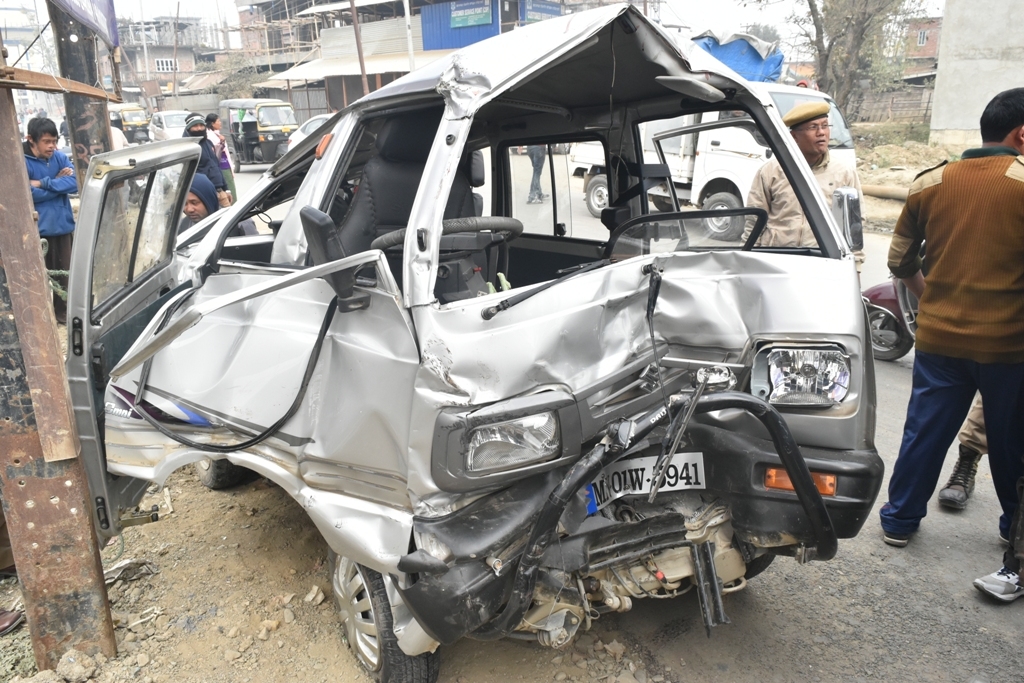 In yet another case of reckless driving and over-speeding a school van bearing registration no MN01W-5941, transporting students for PP Kids Foundation ram into a TATA magic vehicle bearing registration no MN05A-2206 which was put on halt by traffic police at Kwakeithel traffic island, Imphal West today morning around 10 am.
Driver of the school van succumbed to his injury while 21 persons including Tiny Tots traveling in the van and a traffic police sustained injury in the mishap.
All the injured persons and the kids were immediately rushed to RIMS emergency ward.
18 of injured were kids studying at PP Kids Foundation and below 6 years of age, 1 is a students of TG Higher secondary school and another student of DM College. Condition of five minor students are critical.
The injured kids of PP Kids Foundation have been identified as Y Sanajaoba, ThoiThoi, Vivid, Bijaya, Chinglembi, Moses, Harito, Gracy, Ayangba, Jemson, Bakhtaraj, Pratiksha, Athoisana, KulaChandra, Mangijao, Leisamba, Kulabi, Silheibi. Five of the kids suffered severe injuries and were referred to Shija hospital and Raj Medicity Hospital. They were travelling at the van when the accident occurred.
Student of TG Higher Secondary School have been identified as Henam Ranjana (18) d/o (L) Henam Ibungo of Oinam Thongam Awang Leikai. She suffered injury on the back side of the head and right leg. Another identified student of DM Collage is Ahongsangbam Newken (20) s/o Ahongsangbam Kontoba Singh of Keinou Thongkha MayaiLeikai. He also suffered injury on his head and body. Both of them were travelling on the TATA Magic.
The deceased van driver has also been identified as Koijam Manghijao (33) s/o Koijam Ahongjao of Meitram Awang Leikai.
A VDF personal posted as Trafiic control police at the incident place was also hit by the TATA Magic which was rammed by the school van from the rear side. The VDF personal has been identified as one Md Ajam Khan s/o Md Helukhan of Mayang Imphal. He suffered injury on both his leg.
A case of reckless driving and causing hurt due to negligence driving have been registered at Lamphel police station. Both the Van and TATA Magic have been taken to Lamphel Police station.