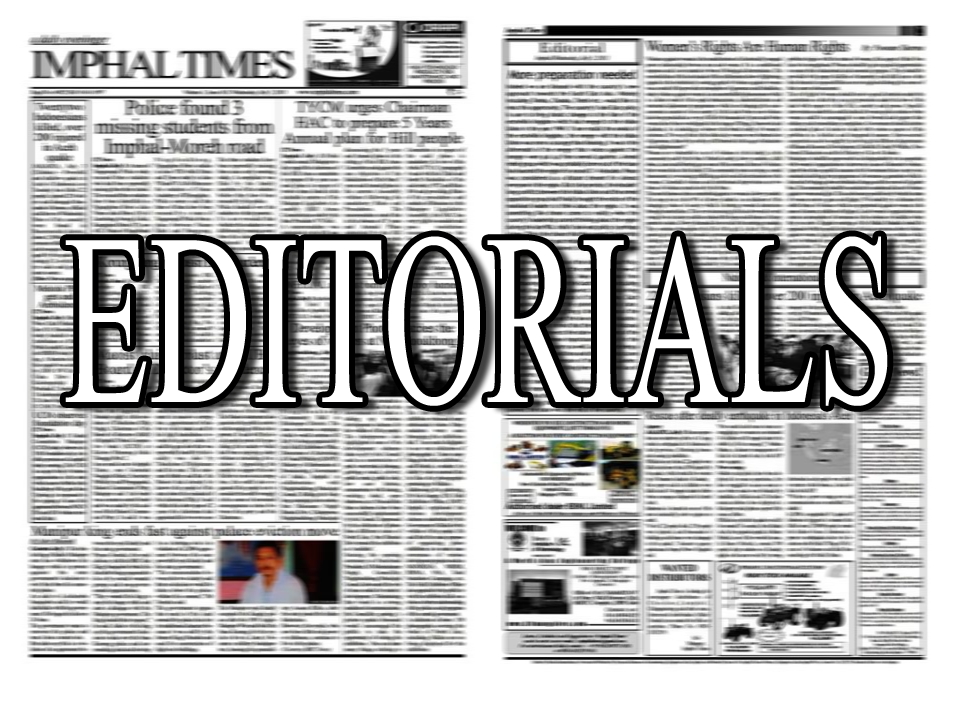 Finally! the much anticipated extravaganza conceptualized to showcase and promote the diverse socio-cultural heritage and the rich traditional wealth of the state is knocking at the door.
That the State Government spared no expenses and efforts to make an impression to the visiting tourists would be an understatement. The Imphal city has been transformed within an incredibly short span of time into one which can compared to any other mid-sized or tier II cities in the country- well almost. Despite the best efforts and undoubtedly noble intentions which had made tremendous improvements in the public facilities and certain infrastructures, a closer look into the activities brings to light various clear indications of the haphazard and rushed nature of it all.
Even as hectic preparation is being taken up many are still left unfinished. Now that the Sangai Festival will begin on Nov 21 and continue till November 30, one cannot help feeling apprehensive about the longevity of the commitment the State Government initiated towards beautification of Imphal City.
If previous instances are any indications, we will be seeing a change in inertia and a visible drop in enthusiasm making the whole efforts an exercise in futility. The incredible potential for attracting tourism in the State has been well known and even documented. From the enchanting misty mountains to the incredibly beautiful ethnic handiworks and crafts, from the inherently hospitable people to the excellent climatic condition, the unbelievably beautiful and mysterious caves and lakes- this small state has it all, and in no small measures.
This naturally endowed land has been wasted and neglected for centuries, our inability to see the big picture, occupied as we are in finding ways to secure our own personal lives through means fair or foul being the main reason.
With the air connectivity with our neighbouring Asian countries are at the verge of becoming reality, it would be an act of utter foolishness not to cash in on the euphoria and enthusiasm such a development has created. Without going into the details of the nitty-gritty of tourism and it's pros and cons, it is an undeniable truth that with proper planning, timely and effective checks and due diligence, tourism would only improve the economy, change the perceptions of the local people towards the visitors and their way of life, adopt a more tolerant view of things and most importantly help in propagating our cultures and traditions throughout the world. For all these to happen, basic infrastructures and basic amenities must be put in place and make the whole state a tourist friendly one.
A lot more needs to be done to be where we want this State to be from where we are now. Only a dedicated, committed and sustained effort can make things possible. Working in fits and starts will get us nowhere.