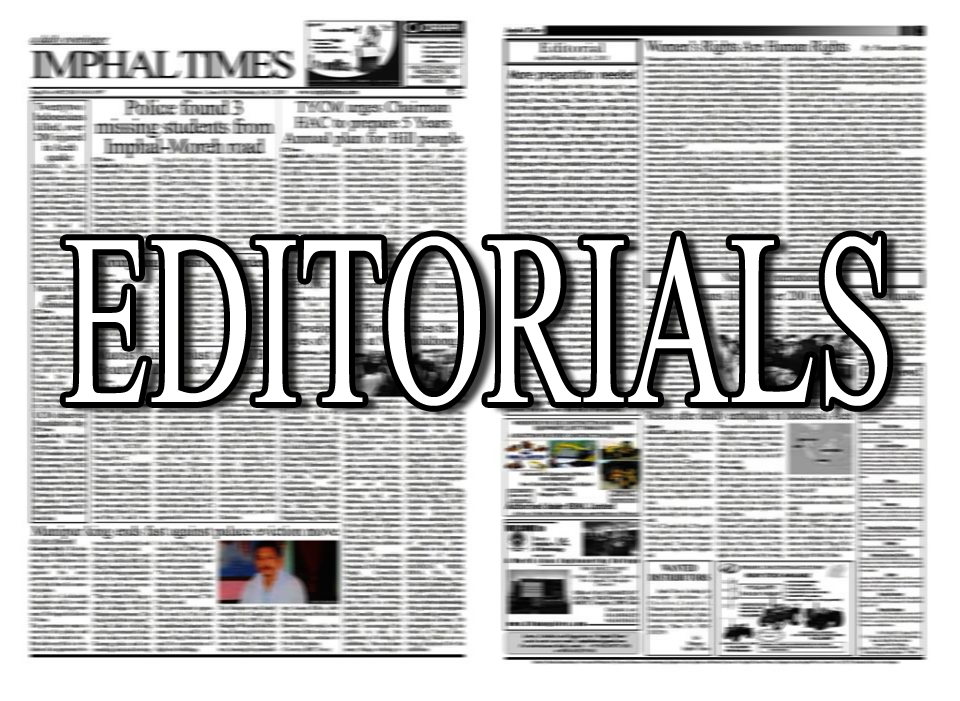 Swaach Bharat Mission, which was launched with great enthusiasm by the Prime Minister of India, is fading away without doing much good when it comes to the state of Manipur. When it comes about the matter of cleanliness no one including the common people and the men in the government had ever taken seriously. 
The "Zero Garbage Campaign" which was launched with much fanfare a few years ago had already receded from public memory. What was it all about anyway?- one can't help but wonder. What is so special about keeping one's own city clean? Isn't it a necessity?- a normal thing to be done anyway? Cleanliness is a force of habit and not a one-off act. The sheer inability to communicate between the various Government Departments when it comes to taking up public sanitation works sends one in a tizzy. Foreign funded schemes (read Imphal sewage project) have made our roads a daily nightmare to be negotiated. The Imphal Municipality- entrusted with the job of keeping the city neat and tidy has been rendered obsolete- the staffs employed embroiling themselves in agitations and protests for various issues to the point where their duties are relegated to the least important of priorities. These inefficiencies necessitated and gave rise to various private and non-governmental agencies rushing in to fill the void. Mechanized equipments and tools purchased at huge amounts for use in keeping the city clean- which were paraded in front of the public to show the Government's serious efforts and resolution on the matter turned out to just what it was- a show. What the public needs, and are waiting for right now, is a total and effective cleansing of the lethargic Government department responsible for the cleanliness of the city and start afresh in a concerted manner. The state of the waste management plant set up almost a decade ago is not known- whether it has started operation or if there is any missing work to be done to make it operational. The sooner things get going, the better off our city will be, else for all the tall claims of achievements, our efforts will go down the drain- amongst the ever increasing pile of waste. For now it is zero in garbage management.
As we gear up to meet the challenges staring everyone in the face with the rapidly increasing pace of development and industrialization, one glaring lapse that hits us in the face- in the nose to be more precise- is the sight, and worse- the smell that assaults one's senses as we walk through the crowded heart of the city. The plight in the suburbs and in the villages isn't any better. All the upcoming infrastructures and glittering paints cannot stop anyone from cringing their nose at the all permeating stench that assails through the whole of the city.