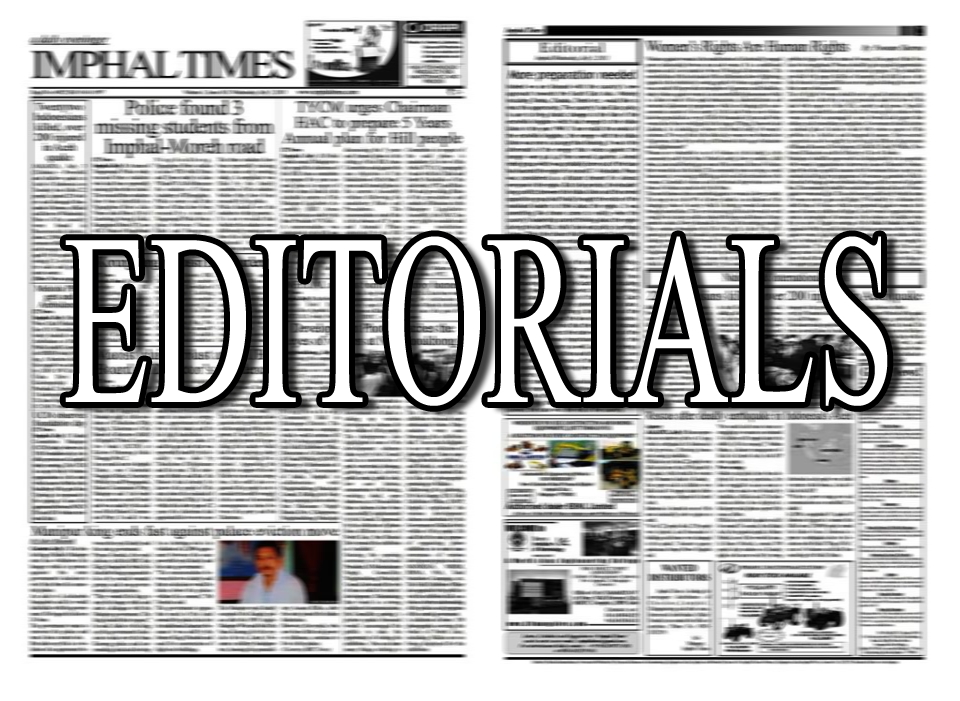 The essence of patriotism that runs through our veins seems to be getting away with the invasion of the dirty mind call 'jealousy'. Thirst for money and power has made people in our state live like a mere pawn. There seems to be no fair games in the making of peace either as love and humanity have been shattered in the 'peace-making game'.
Well this is Manipur – an Asiatic Kingdom, now a state of the Union of India and a home of over 32 different ethnic communities. Myth and legends talk about the blood relationships among these different communities. History says forefather lived, worked and fought together to protect the kingdom. However, reality today is different as the power hungry people play games of revenge to the history, without knowing that somebody superior to them are using them as pawn. The sacrificed of our ancestors for what we are now is being made a mockery by us. We now create situation that our next generation may curse us for what we have done for them.
It's wrong to redraw history, we can't change history but we can learn from history for a better tomorrow. It's not fair to paint pink on the seven colours, for the beauty of rainbow will no longer be seen. Yes, all the 32 and more communities who had been living together from time immemorial have every rights to live as themselves by flourishing their culture, tradition, religion and identity. Its easy learning the minds of the jealous people playing with fire using all weapons to discard the history of this small erstwhile kingdom, but its hard taking up against such, as the virtue of patriotism that runs to the veins has been slowly poisoned. Without knowing our mistakes we keep on following the wrong path.
For nearly two decades, it is going on without any solution. The collective leadership should understand now that the game being played to them has been ruining the bright side of their brothers at home. When you keep talking for peace, when you are busy fitting bombs to show your existence, when you are busy creating your own history, you are wiping out the generation that will remember you. It's again history on how the power hunters are playing by inciting jealousy to the virtue of your patriotism. Let us be sincere to our next generation. Let us sacrifice for our better tomorrows.