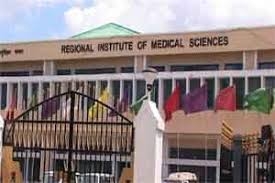 By : L. Memo Singh
The serious effort of the authority of the institute to all round development of the Regional Institute of Medical Sciences, Imphal as one of the best medical, dental and nursing education including best healthcare delivery system institutes in the North East is highly appreciated. Many changes could be seen in the last few months which itself a positive one. Earlier in many occasions, there was hue and cry by the employees of the institute due to non-payment of their salary in time.
It may be worth to mention that the public has many grievances against the healthcare delivery system in the hospital due to misunderstanding between the public and the staff. Atleast, now, the grievances of the public was reduced drastically and there are visible changes in the patient care delivery system to a certain extent. By removing the hardships faced by the patient in a poor state like Manipur is god given gifts by the authority of the institute and will definitely improve the economy of the family members of the patient to a large extent.
It was a huge relief for the contract employees working in the Regional Institute of Medical Sciences, Imphal including the Dental College and the College of Nursing that the authority of the institute decided to enhance the salary of the contract employees. Increasing the economy of the employee will certainly benefit the family members of the employee and the society to a certain extent. It may be mentioned that the remunerations of the daily wagers has also been increased along with implementation of 7th pay recommendations for the regular employees. It is a great achievement of the institute and also a sign of support to be given by all the staff from top to bottom.    
It is an undeniable fact that from the time of his joining as a director of the institute, Prof. A. Santa Singh has been trying to improve the image of RIMS though many obstacles were faced during his tenure in the last five months. There were obstacles in the long drawn path of development of RIMS. This is almost praiseworthy of all the steps taken by the director Prof. A. Santa Singh to remove these obstacles without hesitation in the interests of RIMS in particular and the people of Manipur in general.
His liberal outlook and dynamic attitude are very much helpful in minimizing any sort of conflicts and clashes which are occurring due to unknown reasons. The director of RIMS had taken opportunities to cultivate such dynamism as a sole responsible figure of the institute with full conviction and commitment to the development of RIMS and Manipur.